As February approaches, a local resident is asking the district of North Vancouver why an important local trail has been closed. Lynn Valley's Emily Graydon questions the two-year closure of Hastings Creek Trail and why it's hard to get answers from the DNV.
---
---
Significant erosion along the eastern bank of Hastings Creek led to the closure of the Hastings Creek Trail on February 20, 2020. A staircase and viewing platform have been undermined around the mid-point of the 1.3km trail which runs between the south end of Hoskins Road and Ross Road Elementary School.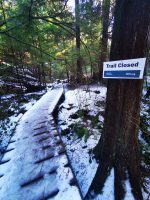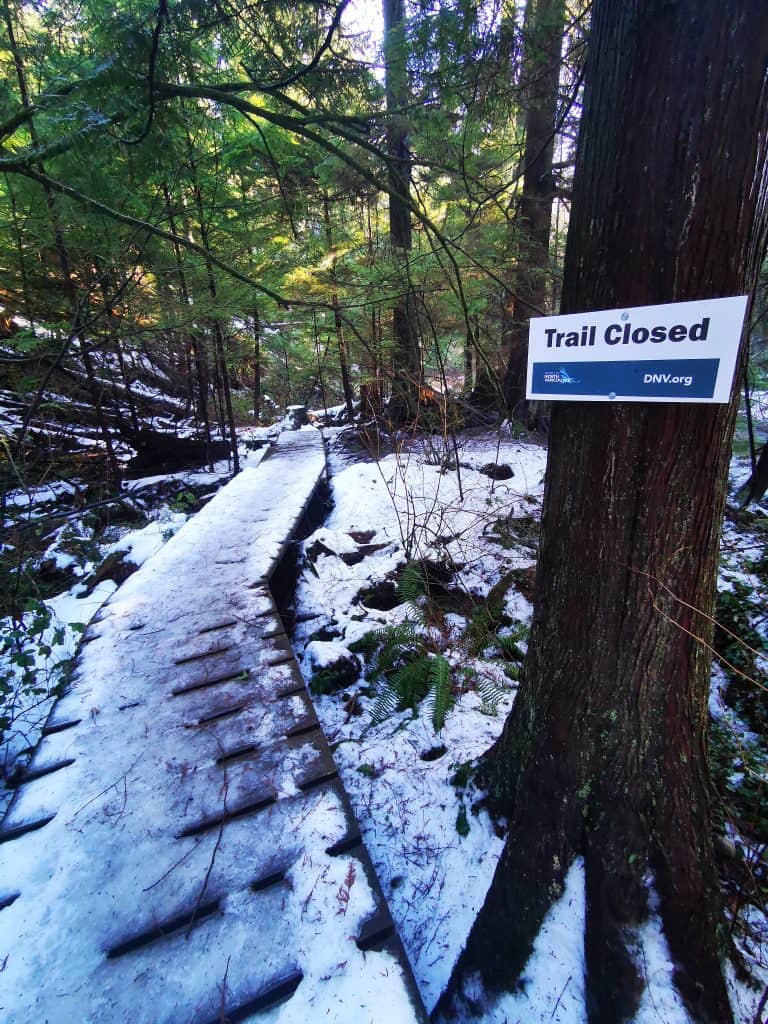 "It's such a great trail," said Graydon. "It is a beautiful nature trail and a great fitness trail. From where I live on Mountain Hwy, it's part of the perfect five-kilometre loop. You see all kinds of people on it from kids to dog walkers. It has the equivalent [elevation] to more than 30 flights of stairs so it's really beautiful and it's like a gym workout."
Today, the trail has numerous signs close to the trailheads indicating the entire route is closed, as the midway point is approached the path is blocked at the top and bottom of two flights of stairs where erosion has made the route unsafe. There is a well-trodden, unsanctioned bypass that can prove slippery and dangerous in certain weather. Graydon wonders how 20 steps can take two years to get fixed. 
"For a while, I would climb around but not everyone can. There are other trails in North Van that need repairs and are temporarily closed but open again," she said. "Look at all the trail work that has happened in Lynn Canyon."
---
Trail use up, questions unanswered
---
Shortly after the DNV closed Hastings Creek Trail, the pandemic began. All across North Vancouver park and trail usage skyrocketed from both locals and people visiting the North Shore.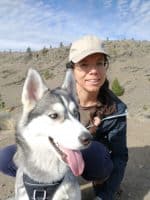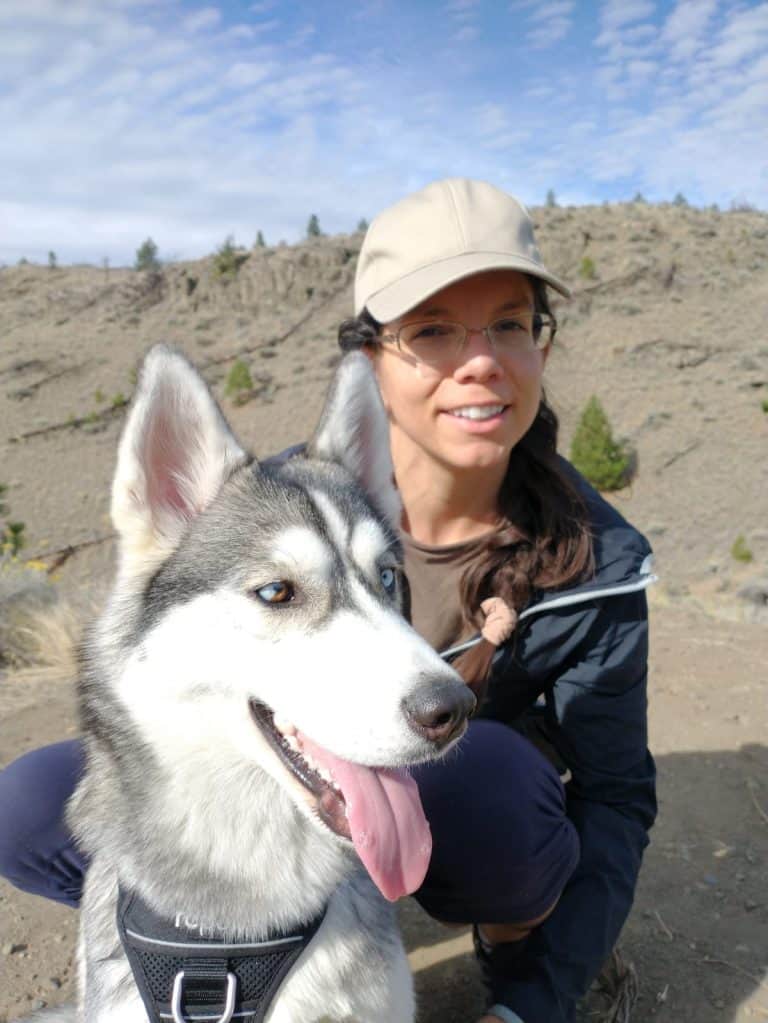 "This is a neighbourhood trail. It's used by kids to get to school, by dog-walkers, by active seniors," said Graydon. "The alternative is to join Lynn Canyon trails. Those trails are so crowded. I am one of those many people in North Van that got a pandemic puppy – those trails are too crowded – leashed or unleashed – for puppies. Opening Hastings Creek [Trail] again would dilute some of that traffic." 
Taking a proactive approach Graydon contacted the DNV for its take on the trail closure. Along with a confirmation that the trail is closed for safety reasons, she received this response:
"[P]lease know that an independent engineering firm is looking into whether they can complete the necessary work and reopen it."
Graydon wasn't pleased with the vague response. 
"It felt like a brush-off," she said. "They are just passing the blame for the delay onto someone else. They didn't give me a timeline,  another contact, or tell me which company was 'looking into' it so I could follow up."
LynnValleyLife had a bit more success reaching out to the DNV regarding the two-year trail closure, however, there isn't much definitive. 
"We are working with geotechnical and hydrotechnical engineers, who advise that we keep this portion of the trail closed and prevent public access at this time for safety reasons," said Justin Beddal, communications coordinator.
The site itself is proving challenging, he said.
"This reach of Hastings Creek is a natural watercourse and is subject to erosion during high creek flows, and the erosion undercuts the banks and trails. This portion of the trail is located on a tricky site. When water flow is high, erosion occurs at the base of the slope. The trail was built to the standard of the day over 20 years ago. Current District practice with respect to trails in natural areas is informed by emergent information, such as more frequent severe storms and high stream flows due to climate change, modern engineering understanding of slope stability and greater awareness of environmental factors."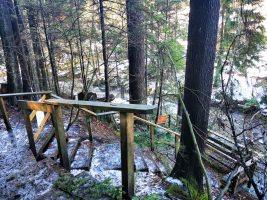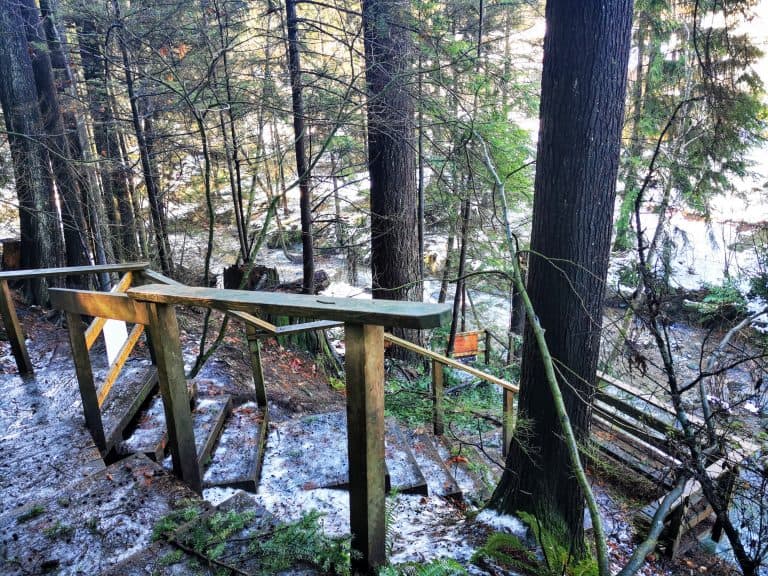 While the DNV understands why the erosion is ongoing and presents a safety issue. The repair plan is not as well-defined and challenged by fisheries habitat.
"We are working with both geotechnical and hydrotechnical engineers on ways to stabilize the embankment. Studies from these professionals are currently underway," said Beddal.  "Given the location, access for heavy machinery is a major challenge. As well, Hastings Creek is a salmon-bearing creek, so any work requires environmental permits and can only be carried out at certain times of the year. Staff, geotechnical engineers, and hydrotechnical engineers continue to meet regularly to discuss this area of the District and are working towards an action plan. We hope to have identified a path forward in the next few months. We expect that work undertaken would be contracted out."
Aware that fish habitat requires more care, Graydon points out this will be the third spring and summer without the trail, plenty of time for a plan.
"I keep going and hoping this will be the time it will be open. Is there a funding issue? Is it something else? Is there something the community can do to push for this key trail to open again? I will get on board with anything to get this open – it's been long enough."