The North Vancouver District Library has launched a new program to get families outside and active all the while enjoying a good story. 
Trail Tales will take families to Princess Park Aug. 17 from 10:30-11:30 a.m. for a literary walk and the story Two Sisters by E. Pauline Johnson and illustrated by Sandra Butt. It's a story that fit naturally into the goals of the program said Danielle Wing, a children's librarian at NVDPL.
---
---
"Chief Joe Capilano told the legend to E. Pauline Johnson, a Canadian poet, who retold the legend in her book Legends of Vancouver [published in 1911]," said Wing. " Now, it has been illustrated and presented as a children's picture book."
The story is rooted in the mountains of the North Shore.
"Since the book is being presented outdoors, it is fitting that the story focuses on the land and landmarks that families can explore after reading the story. We acknowledge that the land on which we gather is the unceded territory of the Coast Salish Peoples and this book showcases the Salish Sea and explores themes of Creation, courage and peace," said Wing. "It also includes supplemental information that will enable readers to further immerse themselves in the rich history of Coast Salish cultures. We hope that this book will inspire families to learn more about the land we live on."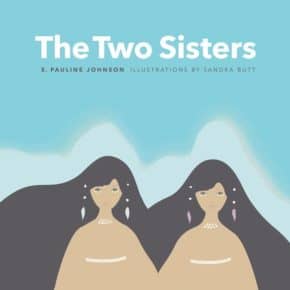 The library was inspired to create Trail Tales after being inspired by library in Vermont and others that have started similar programs.  
"Stories come in many formats and can be presented and experienced in many ways," said Wing. "North Shore families are active and excited to explore the outdoors already, so we wanted to provide a unique literacy opportunity that took advantage of this while celebrating the remarkable nature we have in our community."
Presenting the story on a walk allows each family and child to experience it uniquely and coloured by the ways they learn and engage with it.
"We know that children are diverse learners and that each child will take a different approach when reading or listening to a story," said Wing. "The wonderful thing about engaging with a story outdoors is that everyone can take their own approach: they can walk quietly and read while listening to the sounds of nature around them, or, they can leap and bound between the signs and react as noisily as they'd like!"
The library is debuting a number of new programs that engage patrons in different ways and in different places. They also have a new Brews & Books series which takes melds a pint with author discussions at a local brewery. The Trail Tales program aims to show reading isn't necessarily a passive activity.
"We hope that families will recognize that literacy and reading can be active and fun," said Wing. "The North Vancouver District Public Library aims to connect our community, share knowledge and inspire stories: Trail Tales will allow families to interact, share a literacy experience with one another, learn something new and inspire them to explore literacy in all of its forms."
---
---
Library staff  have created numbered signs that will be displayed throughout the Princess Park from 10:30-11:30 a,m, August 17, starting at the parking lot. Families can either walk with a librarian who will read the story, or they can follow the signs on their own. Trail Tales will be an interactive and engaging family experience for all ages.
Additional dates and locations can be found on the library's website.