We can't help but notice that Lynn Valley's jack o' lanterns are getting spookier every year!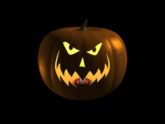 LynnValleyLife wants to share this neighbourhood's spookiest, funniest, fanciest and freakiest pumpkin carvings, so please send us a photo of you with your jack o' lantern! We'll print them up and display them on our office's front window at 3171 Mountain Hwy. (and on our website, of course), and there will be special treats given to the scariest, funniest and overall greatest neighbourhood pumpkins. (There will be a special category for youth, so let us know if you are 15 and under!)
Please send a photo of your pumpkin on your Lynn Valley doorstep to [email protected] by the end of Sunday, November 1, 2015, along with your name, age and contact details.
Here are some tips on pumpkin carving to inspire you, and some info on toasting pumpkin seeds and cooking pumpkin so Jack doesn't go to waste! Good luck, and be sure to send us a photo of the result!