We've been feeling warm fuzzies all week here at LVL headquarters, as our neighbours' nicknames and endearments have been fluttering into our inbox on little Cupid wings.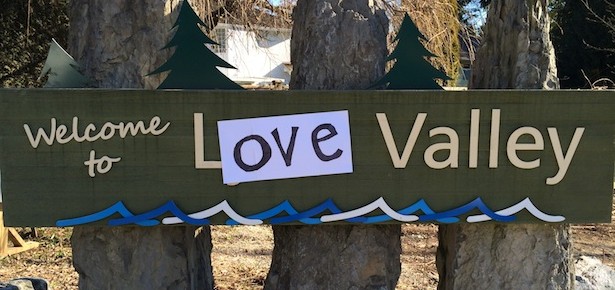 We're pretty sure that only a top-class enticement – like a Valentine's evening out – could motivate the sharing of some of these private monikers. We've heard about Stinky, Snookum, and Sneep. And Punkin' Butt, Pinky, and Pookie Bear.
Fortunately, we didn't have to choose our very favourite, because there were far too many of those (look forward to a special Valentine's Day post featuring some silly and sweet neighbourhood endearments!) By random draw, however, we chose from amongst the pool of lovebirds to pick "Pecas" and "Pippe" (a.k.a. Kirkstone Road's Ingrid Gossler and her husband Mauricio Trigos) as winners of the "Love in Lynn Valley" contest.
Ingrid tells us that Pippe is German for "doll," while Pecas means "freckles." (Actually, thanks to a typo in Ingrid's first email, we were originally under the impression that her nickname meant "freakles," which we kind of like, too!)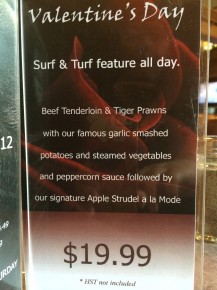 The happy couple will have a $50 gift certificate to spend on dinner at the Black Bear Pub; management has promised to have their most romantic table ready and waiting. Following that, two tickets will be waiting at the door of Friday Night Live, which is putting on a special evening o' love in honour of the occasion. Joining the usual troupe of amazing improv performers will be jazz musicians The Sharp Five, and dancing is on the menu following the performance for those interested in tripping the light fantastic. Also featured are some special refreshments – a chocolate fountain was mentioned – and wine, along with the usual complimentary treats and coffee, the latter of which is provided by Waves Coffee House.
Fortunately for the rest of us, Pippe and Pecas don't get to corner the market on V-Day fun. (Though we WILL let them have their romantic table to themselves.) The Bear has a special Valentine's Menu on for all to enjoy, and the love-themed Friday Night Live, hosted at Lynn Valley United Church, is definitely singles- and family-friendly; no significant other required to make this a fun evening! So even if you didn't win the contest this time, we hope you still enjoy some "Love in Lynn Valley!"