After LVL-sponsoring realtor Jim Lanctôt mentioned that his wife Cindy was his "Cinderelly," he and Kelly Gardiner decided that other Lynn Valleyites should  have to confess their beloveds' nicknames if they wanted an entry into our draw for a Valentine's evening out. We put out the call, and we weren't disappointed!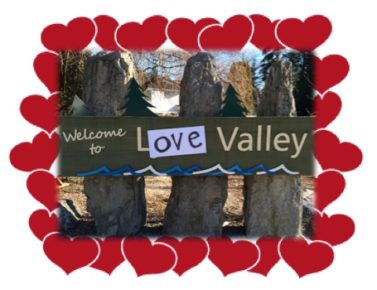 We now know our neighbours even better than we did before (and have learned to be careful what you wish for!) We are aware that Lynn Valley is heaving with Punkins, Snookums, Snuggle Bugs, Boo Boos, Dolls, Cuties, Pinkys and Puddin's. There is a Sneep, a Winner, a Buddy Burger and a Big Ben. There is a good smattering of names that have their origins in different countries, such as a Filipino "Pre" ("my buddy") and our winners in the draw, "Pippe" (doll) and "Pecas" (freckles).
And along with the endearments came some pretty endearing stories. Here are some of our favourites, anonymized as originally promised!
"Thank you for sponsoring this interesting contest. It made me sit down and think. T. and I have been married for four decades and I used to have a special name for him. But I forgot. Actually, familiarity doesn't breed contempt. It breeds forgetfulness. Luckily, we are still deliriously happy  because we forget what it was that used to bother us about each other!"
"My husband of 16 years and partner for 22 years (as of February 5th) have called each other "tokfeh". It always seamed so sweet, cute kind of. Until we went to visit his family three years ago in Slovakia……they giggled for days, perhaps still today as we have been calling each other "turkey" for all this time. We have not let it go but do giggle about it once in a while…."
"So normally the nicknames we use for each other (this is so weird) is "dude".  So like the everyday stuff like "Dude, what do you want for dinner?" or "Dude, did you take the garbage out?"  It's not very romantic but we could never get on board with words like baby, hun or honey.  But when we really want something from the other, like a late-night food run, ice cream, etc., we pull out the "Sweeeeetie punkin" or "Sugar muffin" and it works every time!"
"I call her "the red headed banshee that must be obeyed." Or just "yes dear."
And our sentimental favourite…
"I lovingly call my partner R. " My Blunt Instrument of Love." Her warm, kindness and ease of loving smack me across the side of the head ( i.e. Like a blunt instrument). Everyday I wake up to her wonderful presence."
Thank you to everyone for giving us a peek inside your love life! We hope each and every one of you enjoy a happy day.