Signs have been popping up and down seasonally along local streams and creeks in a partnership between the North Shore Streamkeepers and the District of North Vancouver to raise awareness of sensitive salmon habitat.
---
---
For the past two fall/winter seasons the North Shore StreamKeepers have placed signs around sensitive fish habitat – like Hastings Creek in Hunter Park – asking owners to keep their dogs out of the water.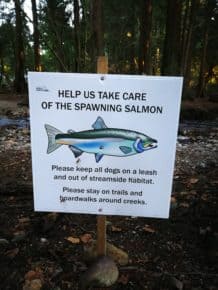 "There is a season when fish are vulnerable," explained Janet Dysart, North Shore Streamkeeper overseeing Hastings Creek. "There are eggs present on the creek bed and when the alevin [juvenile salmon] are out swimming around."
There are times when the creeks are low – August/September – when fish are less at risk and entering creeks presents little risk, she said. However, during the late fall and early winter the eggs and fish are especially vulnerable.
"Disturbing the gravel creekbed can destroy eggs," said Dysart. "Mostly we are concerned about bacteria and fecal contamination putting the young fish at risk. I know we can't do anything about wildlife but we should try and do what we can to limit our impact."
Hastings Creek is home to Coho salmon. It is natural habitat as well as the recipient of alevin stocking from education programs at local schools.
"Think about where the salmon are coming from," said Dysart. "It's amazing the journey they have had to return to Hastings Creek. We can't protect it all but the least we can do is try our best."
In Hunter Park, Dysart draws attention to the wetland environments that border some of Hastings Creek calling the areas particularly sensitive to both human and animal feet.
"We want people to be aware – if we are not we might lose – it.
---
Streamkeepers keeping busy
---
Later this month the North Shore Streamkeepers are hosting a workshop in the honour of the International Year of the Salmon.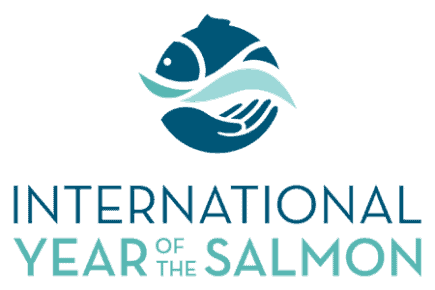 February 23rd they will be hosting a panel discussion with representatives from the federal Department of Fisheries and Oceans and local experts. Workshop on the Wild Salmon Policy Implementation Plan: Moving from Policy to Action will be held in the Arbutus Room at the Delbrook Community Recreation Centre, Saturday February 23rd  from 1:30-4 p.m. They have also confirmed the attendance of a number of local politicians, members of the legislature and Federal Minister of Fisheries and Oceans Jonathan Wilkinson. The public is welcome to attend and participate, register in advance here.  
The North Shore Streamkeepers meet every second month at the District of North Vancouver Hall. The next meeting is March 13 at 7 p.m. For more information visit their website.