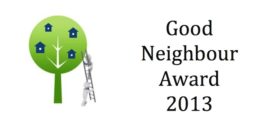 Do you know someone in Lynn Valley who would make a good candidate for this year's Good Neighbour Award? Please send us your story about the person in our community who has made our world a better place, in ways large or small (whether they live next door to you or not!) Over the upcoming season of peace and goodwill, we will share our favourites on the website and draw from amongst them the recipient of the 2013 Good Neighbour Award and prize package. Details are here; deadline for entry is Wednesday, December 18. We look forward to hearing from you!
From tapping syrup to shovelling snow, Gord is there to help
I'd like to nominate our neighbour, Gord Trousdell, for the good neighbour award. Besides always being a cheerful encounter with interesting conversation, Gord is always willing to help out.
One of our first experiences of Gord's kindness was during the snow of 2006 when our car got stuck; hearing the whirling tires Gord came running up the street with shovel in hand reading to dig and push until the car was free. To this day, I imagine him wearing a cape while running to rescue us.
Little did we know that this was one of many times Gord would be there to lend a helping hand. Throughout the years, Gord delivered kettle corn to our children's birthday party (made by his equally fabulous wife, Lil), helped make our deck, helped shovel snow off our roof, babysit our kids; the list is endless.
Not only is he generous with his time, but he is also generous with his stuff. Gord likes to share. We trade tools, lawn mowers, etc. Gord truly has a community spirit which includes sharing goods within our community so that we may all benefit and have access to things that we may not own.
Gord also has an incredible wealth of knowledge that he is always willing to humbly share. He's given us guidance on household maintenance, bee keeping, food harvesting…again the list goes on.
To top it off, we really enjoy the Trousdell family; they are lovely and interesting people with which to spend time. Simply walking down our street can be an enjoyable social outing. I truly believe that the Trousdell family help make our street an inviting community in which I have developed many true friendships.
Just yesterday, Gord was over to tap our maple trees with my children so that we can share the syrup. We feel truly blessed to have a neighbour like Gord. He makes our street a better place to live and significantly contributes to the genuine community feel of our street and the sense that Lynn Valley is our home.