Do you know someone in Lynn Valley who would make a good candidate for this year's Good Neighbour Award? Please send us your story about the person in our community who has made our world a better place, in ways large or small (whether they live next door to you or not!) Over the upcoming season of peace and goodwill, we will share our favourites on the website and draw from amongst them the recipient of the 2013 Good Neighbour Award and prize package. Details are here; deadline for entry is Wednesday, December 18. We look forward to hearing from you!
Longtime neighbour is a friend and inspiration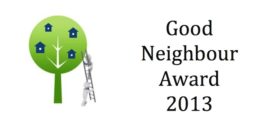 Kathrin (and her husband, Bruce and her two kids) lived opposite my family in the mid-eighties in a townhouse complex on Cedar Village Crescent. We spent many fun-filled years watching the kids grow up and celebrating events ranging from family birthdays to block parties to Christmas dinners.
Kathrin is a very community-oriented person who as a strata council member implemented positive changes within the townhouse complex. Later, as PAC president at Eastview Elementary School, she was instrumental in bringing about the creation of a forest walk near the school, the installation of new playground equipment, and the building of a walk-way from the adjacent care facility, Cedarview Lodge, to the school. This enabled seniors to easily walk over to the school and participate in such functions as the Remembrance Day ceremony.
About 10 years ago, Kathrin and her family moved to a house on Greylynn Crescent and my family moved to Viewlynn Drive a few years later. We have enjoyed being neighbours and friends for well over 20 years.
We look after each other's pets when on vacation, have shared a tent trailer and various home and garden implements, exchanged flower and vegetable cuttings and borrowed an egg or a cup of milk when needed. Kathrin and her family always include my family for Christmas dinners, Easter egg hunts or other social functions. As a neighbour and friend Kathrin is an inspiration, always willing to lend a hand or an ear and I feel truly blessed that we are so near.
Thank you for entering Kathrin's name in the draw for your Good Neighbour Award 2013.
– submitted by Andrea Winterbottom
(Editor's note: and thank you to Andrea for contributing five complimentary Joyful Chakra Yoga sessions to our Good Neighbour prize pack! If you have a local treat you'd like to contribute, please let us know at [email protected].)