Lynn Valley is lit up for the season of goodwill – literally and figuratively.
On December 1, in front of a huge crowd, North Vancouver District Mayor Richard Walton, MP Andrew Saxton and MLA Jane Thornthwaite flipped the switch to light up Lynn Valley Village, forested with over 70 decorated trees sponsored by local businesses and organizations.
Mayor Walton couldn't stay long, however; he was soon off to Mollie Nye House's Bright Nights celebration, where with the flip of another switch the heritage home was transformed into a must-see roadside attraction.
These events kicked off a pre-Christmas season that is becoming ever more celebratory in this neighbourhood. The "Lynn Valley Christmas" event, organized by the Lynn Valley Community Association, is now in its third year. The Lynn Valley Lions donate the trees for the Christmas Tree Walk, with money raised by tree sponsorships supporting the Lions Christmas hamper program and LVCA community events.  (People can further support this charitable work by purchasing their tree from the Lions in the Karen Magnussen parking lot!)
More entertainment is planned for December 21 and 22, when dance, music and children's activities will run in Lynn Valley Village all afternoon and evening. The events will culminate in a carol sing-along with the L.V. United Church choir on Sunday, Dec. 22 at 7 p.m.
Activities abound
The weeks to come offer a plethora of seasonal events, from a traditional tea at Mollie Nye House on Sunday, Dec. 15 to a screening of Christmas movies at the library community room on Monday, Dec. 9 and Monday, Dec. 16.
People wanting to express their Christmas creativity can make a gingerbread house at Mollie Nye House on Wednesday, Dec. 11, or a holiday centerpiece on Thursday, Dec. 19.
Look for details of these events and many more at our online Events Calendar.
Good Neighbour Award launched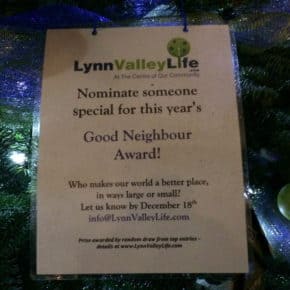 Another recent addition to the season of goodwill in Lynn Valley is the Good Neighbour Award, now in its second year.
LynnValleyLife invites nominations of Lynn Valley people who make the world around them a better place, in ways large or small.
Favourite stories are shared on the LynnValleyLife website and a winner is chosen by random draw to be named the Lynn Valley Good Neighbour of the year.
Nominations are welcomed up until Wednesday, Dec. 18, and the grand prize will be awarded at the Christmas in Lynn Valley event on the evening of Dec. 22. Send your "good neighbour" nominations to [email protected]!
– Peggy Trendell-Jensen