Aging is never easy. Fraught with loss and challenges, a new local business is hoping to ease the burdens on the elderly and their families with a plan to age in place and adapt homes to make them functional for later life. Tom and Melody Grant bring their expertise as an occupational therapist and a designer to Living by Design.
---
---
Living on the Sunshine Coast at the time, Tom Grant was not surprised when he and his siblings decided he should take the lead on helping his elderly parents downsize and transition to long-term care. With his experience as an occupational therapist it was the logical choice. What he didn't expect was having to move back to the UK for a year, the massive mental and emotional labour, and the seemingly endless details of the task. 
"At the time I had a big realization: 'Why do we, and everyone else, leave these things so late – until it's a big panic?' It's such upheaval in everyone's lives to downsize," said the Lynn Valley-based occupational therapist. 
He was dealing with the double whammy of downsizing his mother to a smaller home and settling his father into a long-term care facility to support his dementia. He knew he wanted to use his expertise to help others. 
"I am really on a mission to shift people's approaches to aging. To think more proactively rather than reactively – like I did in my life," said Grant. "We want to make the process a bit smoother so we can help a few families avoid having to rush in a crisis."
It was also the experience with his family that brought his wife Melody on board to create Living By Design.
"When my mom got her new place my wife made it suitable for my mom with all its furnishings," he said. "It doesn't need to look institutional. I think you need the collaboration of both expertise or you will get something that is institutional or it could be very pretty but doesn't take into account the progression of age, or a disability. If we could work as a team, we could help instead of calling in separate experts who aren't on the same page."  
Today, Tom offers traditional occupational services as well as their aging-in-place planning with Melody through their company Living By Design. 
---
---
If Grant has one piece of advice it's: plan – and if needed, move early.
"Ideally people will have their home for life or downsize early enough and make that their home for life. Depending on their finances, as long as it's accessible, there is no reason why some can't stay at home as long as possible," he said.
The biggest error families make is underestimating the amount of mental and physical effort to move, and how that mental drain continues for months or years as someone tries to establish themselves in a new community. 
"In my experience working in home care, if someone has to move their home when they are already starting to struggle with mobility and particularly if they are struggling with cognition, if they move environments – move home or into a new area so they can be close to family, it's very discombobulating and can lead to massive functional decline.
"A new area, a new home they might not have the cognitive ability to take on this new environment. It takes a lot of cognitive ability to get to know your new environment and – not driving anymore – transportation can lead to feeling isolated," said Grant. "Getting lost, struggling with timetables, it becomes a burden for adult children. Potentially, the older adult feels guilty that they need to be supported so much but they need the help. It becomes very demanding on everyone. If people stay in their homes and help can come in, they are more likely to function."
---
---
The solution is fairly simple, but not necessarily easy. 
"What I see happening, downsizing and aging is a bit of a taboo topic," said Grant. "Have a good plan in place around 65 that you are going to stick to and be accountable to your family members."
That is a broad strokes plan sharing the elder's wishes and setting goals. 
"At 70-75, you might have the cognitive capacity to do it but not the physical capacity to do it yourself. The brain power to do all the packing or getting to know a new area is underestimated. It has to happen before your abilities decline and the burden shifts to adult children."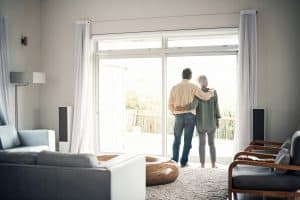 This also empowers the elder, rather than forcing decisions on them, another stress for the family, he said.  
"My mission is to get people to start talking about this. The conversations are getting delayed.  Be honest, be transparent and commit to the plan of aging. Acknowledge there is a functional decline with aging without any particular health condition."
Connecting the dots
With the experience of working within and out of Coast Health, Grant understands the pressures and limitations of the public system. He hopes Living By Design helps families move forward with living and aging. Too often, after a brief evaluation from a Coast Health OT patients are left with more questions than answers. 
"When people leave it to a crisis: like they are in hospital after they have fallen and broken their hip, suddenly they need an accessible home. People spend a lot of time in rehab only to find their home is not appropriate for them," said Grant. "OTs with Coastal Health are stretched too thin. They will say you need an accessible bathroom but they don't have time to tell you what that means and how you can get it. We are trying to fill the gaps in what the public system can offer. They can't go into this much detail, they will do a basic assessment, but I will do a much more detailed assessment and treatment."
Whether it's a crisis, a disability or managing the general decline of aging, if a home needs renovation, that is Melody's specialty. Her skills help make the functional changes homey and aesthetically pleasing. 
"Often people get recommendations but there is no one to help with the next step of implementing them," he said. "It might be adding some grab bars but it might be renovating their whole bathroom and they are left to their own devices to figure it out. 
"You can't rush a lot of these things – it takes time finding contractors, supplies. Ideally, it should be done ahead of time step-by-step." 
If adult children are out of town, or if that process is simply too taxing, Living By Design can help homeowners through the process. 
"One thing I think might be very helpful is project management," said Grant. "If you need changes but you might not have the knowledge or the energy to call and make those changes. Melody can help organize reliable trades, keep them on track and make them accountable. The burden often falls on the children who might not even live in the area. If your spouse previously looked after these responsibilities and they have recently passed, it can be intimidating to talk to a contractor and makes them vulnerable to being taken advantage of."
The first steps to aging in place are simple conversations and assessments, said Grant. He evaluates over 300 potential hazards in the home and can also establish a cognitive baseline to monitor mental changes. 
"If someone thinks 'We are slowing down and we want to make some changes,' we can do a joint assessment and look at the space planning and we can work together." 
Living By Design is based in Lynn Valley and works throughout the North Shore and Sunshine Coast.