On these long rainy days, there is no better time to tuck in and watch a movie and when it comes to choosing, finding something filmed in Lynn Valley has never been easier. With film production thriving on the North Shore, our parks and streets are filling the screen more than ever. 
---
---
The District of North Vancouver has long been a chosen location for many film and television productions. Well situated between the larger studios and desirable locations 2023 is expected to be another banner year. 
"The District of North Van sells itself," said Jennifer Janetka, film and events coordinator for the DNV. "We have forests that feel like you are deep in the forest but you are very close to the city. 
We have a studio in North Van and the productions that are working out of North Shore studios tend to like to stay in North Van.
"Picking up and moving is a big deal. So the more spots we can find them in once is also a big deal. It's a very unique industry. It's very out of the box – beyond the creative of the production – it takes a lot of out-of-the-box thinking on how to film them here. It's full of very good people. So much creativity. It's nice that we have some A-list celebrities that want to come and make movies here."
From Nickelback shooting a music video just a few weeks ago to The Good Doctor, from The Adam Project to The X-Files. Lynn Valley has stood in for a variety of locations over the years and seldom itself. Janetka credits its wide variety of home looks and its forest parks for its high desirability. For DNV as a whole with a vista like Quarry Rock, Deep Cove's beachfront and an ethereal forest road like Indian River there is no shortage of requests for productions to work in our neighbourhoods. 
"It's increased over the years but we can only hold so much," said Janekta. "We only have so much parking and we only have so many places. Productions still want to come here so we get creative."
The filming permits issued in 2022 saw a return to pre-pandemic levels close to the peak production year of 2019. 
---
---
The process to come and film on neighbourhood streets and community parks is not a simple one – although it is efficient, said Janetka. Films productions consult with Creative BC and the DNV film and events office to discuss locations, timing and competing community needs to find a solution.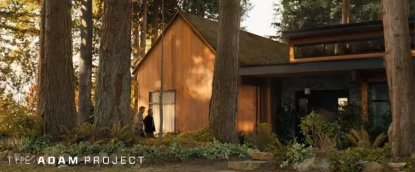 "My job is to facilitate the industry in our community – we do everything from major films to indie productions to student films."
While the public may see parking impacts or a temporary increase in traffic, there is a lot going on behind the scenes to ensure disruptions are kept to a minimum.  
"We never let a production leave somewhere like Lynn Canyon worse off than they found it," said Janekta. "Often, the public will see something and because filming was done they blame that, but it actually has nothing to do with the film. We have an on-site liaison contractor that is in the parks the entire time. Sometimes restoration can't happen right away due to environmental reasons – weather or the time of year. We will always leave the location the same or better – we take money from the production and work with parks to replant when the time is right." 
She also plays an on-the-ground role in ensuring productions are within their agreements. 
"In residential communities, I visit a couple of times to check in on them to make sure they are meeting the guidelines of their permits. I come back later to make sure everything is cleaned up. If complaints come in, we are quick to rectify them – they don't want to leave anyone with a bad taste regarding the industry," said Janetka. 
She thinks one of the biggest contributors to the success of local productions is that our residents are deeply invested in the industry. 
"We have a lot of film industry professionals in the district – the highest number per capita of film industry workers in the province. People have a vested interest in taking care of our parks and communities."
Sometimes those productions choose to leave a lasting impact, not only with their economic investment.
"They are often helping take care of locations," said Janetka. "We have a production that just wrapped and is returning tomorrow on their own dime to repair storm damage to clear debris. That happens quite often. We had a production in Princess Park that did a significant restoration as a goodwill gesture."
She acknowledges that there is the rare bad apple in the bunch, like in any sector but largely the industry relies on good communication with residents to ensure a smooth production. 
"There are always ways to work around and find a solution. They are so used to being in people's spaces and neighbourhoods. They know the impacts and disruption it brings and for the most part, crews are very respectful."
---
---
This weekend as the remotes turn to the Superbowl, Janetka says they will see Lynn Valley on the screen. There were numerous advertising campaigns filmed during early winter in the district specifically for the Superbowl but it will be hard to tell which ones, with more filming taking place in private homes.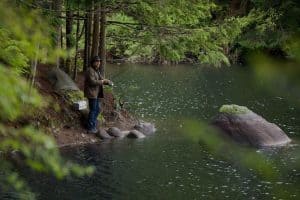 "We get a lot of things that come in internationally – like we get production companies from Europe that will come and film nature shows for teaching children," she said. 
That's in addition to the film, TV and streaming production. Current ongoing productions include Fire Country and film productions. Ongoing series that come and go from the Lynn Valley area are some of the WB/Marvel productions and Virgin River. Other past productions include the blockbuster The Adam Project, The Descendants and The Art of Racing in the Rain. TV and streaming productions include Once Upon a Time, Nancy Drew, X-Files and the Twilight Zone.
"We are now busy all year round but we take breaks. We close down Lynn Canyon Park [to filming] in the summer, Deep Cove from May to September and Cates Park in July and August but it's still busy in private residences and other parks," said Janetka. 
All that business has a real financial impact on the DNV. In 2019 more than $73M was paid to residents in salaries of film production employees. In 2020 – mid-pandemic – it was $58M. That is just salaries, not all the spin-off impacts of rentals, caterers, and service contractors that support the film industry, said Janetka.