It all started as a group of adults who dusted off their high school band instruments and used their Monday evening practices to escape the world of mortgages, day jobs and fractious toddlers.
Thus the Lynn Valley Black Bear Band was born, and quickly grew to an ever-more enthusiastic group of 40 to 50 musicians of all backgrounds and skill levels. The first years were spent under the direction of longtime Argyle music teacher, Ken Osterreicher, and many of the players were recent or long-ago alumni of our neighbourhood secondary school.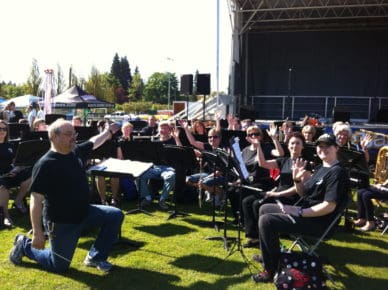 Today, nearly 10 years on, the Black Bear Band is conducted by Rob McLeod, Sutherland high school's VP, and the musicians are a varied bunch. The band has never required auditions, and potential players are invited to come out for a few practices to suss out for themselves whether they are a good fit.
"We have a real range of abilities in the band, from people who haven't played for years to people who are semi-pro," says president Stacey Seddon. "It works well – people can cover for each other when necessary, and everyone finds their skills getting better over time. Put us all together and we sound really good!"
The band has developed a faithful following through its regular appearances at Lynn Valley Day, Remembrance Day and other community events. It also has a popular Winter Concert at Kay Meek Centre, a by-donation event that includes seasonal and not-so-seasonal tunes, and apres-show goodies as well. This year's Winter Concert takes place Monday, Dec. 16 at 7:30 p.m.
Monday evening practices are followed up by an optional get-together at the Black Bear pub, which feeds its namesake community band complimentary wings and pop. It's an evening in the week that has become a musical and social highlight for many of the members, but don't take our word for it; LynnValleyLife was sent the following testimonials from BBB longtimers: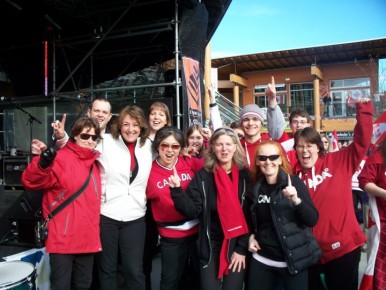 "My life has been made better by being part of the BBB. The music,  friendships and essence of community shared within our ensemble is uplifting. I feel privileged to work with a fabulous musical director, to create music with enthusiastic musical colleagues, and to have made some amazing friends by being part of the BBB. No matter what topsy-turvy turns my life takes, I always know Monday night band rehearsal will lift my spirits – both through music, and through the friendships and community which occur there."  –    Andrea, trumpet
"At the end of a long day there is nothing better than coming to a place where you can make music among friends.  I find it nearly impossible to be hung up on the stresses of the day and play music at the same time, being a part of the BBB has given me a place where I can leave my worries at the door and be a part of something truly fantastic.  We have a great group of people in the BBB it is an environment where everyone supports and inspires the people around them, a place where each individual contributes and has value."   –   Stacey, bass clarinet
"I had stopped playing a few years after high school and in the 10 years that went by before joining the BBB, I had forgotten how much I enjoyed the feeling of making music. Since joining the BBB, I have regained that joy and Monday nights are what I look forward to the most. Being part of an ensemble, performing for an audience and playing a variety of musical styles keeps me engaged and even causes me to do something I rarely did in school – practice! –   Jeff, trombone
The band is actively recruiting new members, so don't be shy! Contact [email protected], or just show up for a Monday practice in the Argyle band room at 7:30 p.m. (aim for 7:15 to get set up). More info is available on the band website. Make 2014 the year you put some more music in your life!