Four hundred chairs had been set out, but they proved unequal to the task of seating the overflow crowd of residents who came out Wednesday night to learn more about the Bosa Developments proposal for the transformation of Lynn Valley Mall.
Some of them had previously attended an informal September presentation, during which Mark Sager outlined the new vision Bosa had developed based on months of dialogue with the community. (For an overview of the "mountain village" design, which includes a completely refurbished shopping mall and two 12-storey residential buildings, click here.)
"I don't know if you realize how much your input has shaped this," said Sager as he finished his slide presentation. "We have done our best to try as hard as we can to address the community's wishes."
Knowing that traffic is a big issue for those people concerned about increased densification in Lynn Valley, for example, Sager announced that Bosa Developments has offered to finance the addition of an extra lane at the entrance to the Trans-Canada Highway, at the highway overpass marking the end of Lynn Valley Road, a proposed improvement that has been met with enthusiasm by all levels of government involved.
The audience question-and-answer period that followed Sager's presentation took place under the direction of Catherine Rockandel, an independent, third-party facilitator who described her role as ensuring that all voices were heard in an environment of "respect and civil conversation." She noted that all comments coming from the floor would be recorded and included in her report to North Vancouver District Council – though at least two council members were spotted in the audience, taking in the evening for themselves.
Comments from the floor were very largely positive, with even those opposed to increased density in Lynn Valley tipping their hat to Bosa Developments for the compromises they have made in response to community feedback. Glenn MacKenzie, one of the founders of the "Stop Hirises" campaign in Lynn Valley, called Bosa "a great developer", and focussed his criticism not on the plans themselves, but on the whole issue  of densification in Lynn Valley.
Most, people, however, seemed to think that a redevelopment of the area is long overdue.   Ron McLean and his wife moved to Lynn Valley almost 50 years ago, when a house cost three times his annual teacher's salary. Now, he says, a house costs about 15 times the typical teacher's salary, and the eight houses around him, which used to house 23 children between them, are now home to only four children. His own kids have had to move away, with the result that he and his wife don't see their grandchildren more than three or four times a year. "I have to agree that high rises are appropriate," he said. "We have to share the wealth of our community."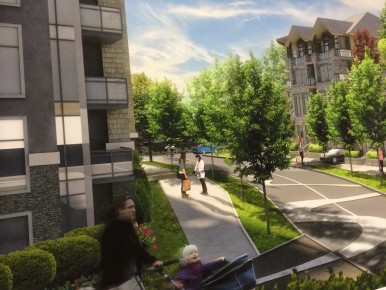 Ian Jarvis was next to the microphone and waved across the crowd to Ron McLean. "I used to play soccer with your son, Cam," he said. "We were often 'those kids' who hung out at the 7-11."  He, too, wishes he could live back in Lynn Valley, and expressed his appreciation of the efforts being made to achieve greater housing diversity. When he saw the signs protesting the addition of high rises to the community, he assumed that 30 or 40-storey towers were being planned. "But 12 storeys, are you kidding me?" he said, prompting laughter from the audience. "That's a high rise?"
While it is not uncommon for older, well-established residents to resist change in their neighbourhoods, many of the people speaking in favour of the proposal have in fact lived in Lynn Valley for decades. They pointed to increased community amenities, options for downsizing their housing, and the walkability of the Bosa redevelopment as attractive features of the proposal.
A resident of Craftsman Estates, who lives across the street from the mall and would be directly affected by the construction plans, also spoke in favour of the development. "I'm thoroughly impressed with the Mountain Village look and the willingness of Bosa to work with the community," said Hazel Boyd, noting that the mall should offer a more robust business environment and that the District of North Vancouver needs more of a tax base to ensure future economic health.
There is still much to be discussed as the project is negotiated, however, including the best use of the allocated community amenity space, and ongoing dialogue about traffic management plans, aspects of which are already under way. This latter issue, of course, is not solely specific to the Bosa proposal, but an overall part of the District's implementation of the Official Community Plan for Lynn Valley Town Centre. (Click here and scroll down to #4, Additional Information, for a link to the Lynn Valley transportation study commissioned by North Vancouver District.)
Feedback from Wednesday's public information meeting will go back to North Vancouver District staff, who will prepare a report for council either recommending that the application be denied, or that it proceed forward to public hearing. For a step-by-step look at the whole approval process, read this post; we have just completed Step #5.)
If you haven't yet had a look at the plans and drawings for the proposal, visit the Bosa storefront in the mall in the former pet store space, or click here.  Your feedback can be sent directly to Mark Sager by clicking the orange tab at the left of the screen on his Lynn Valley Connect site.
On February 13, the District of North Vancouver's Advisory Design Panel unanimously passed a motion of recommendation to the District Council in support of the proposed re-zoning. Public input will be taken at the public hearing stage, should the application proceed.