Coming to you from the blowing-one's-own-horn desk is the happy news that LynnValleyLife.com was once again voted the North Shore's Best Website in the North Shore News Readers' Choice Awards for 2014. As you can imagine, we are immensely grateful for this show of support from our website followers.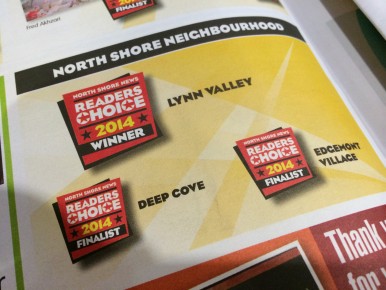 Even better, though, we are delighted to note that Lynn Valley was voted the North Shore's Best Neighbourhood! We know how many local people work to make this community the friendly, neighbourly place it is, so this recognition is a big tip of the hat to all of them! And a big shout-out, too, to the Black Bear Neighbourhood Pub, which has won top place in its category every year since it opened its doors in 1997!
Other Lynn Valley businesses and landmarks showed strongly in this year's Reader's Choice Award, which consisted of votes from a record-breaking 5,000 North Shore residents. Many congratulations to them all. We have listed them below, along with the links to their Merchant Profile on LynnValleyLife. This is  a good chance to remind our readers that our profiles are a fun way for local residents to get to know our retailers better, so if you know one who isn't represented on our site, do encourage them to contact us to take advantage of this free opportunity!
Winners
Neighbourhood – Lynn Valley!
North Shore website – LynnValleyLife.com
Tanning Studio – Beach Tanning Studio
Alternative Health/Therapy Facility – Lynn Valley Orthopedic Sports Physiotherapy
Yoga Studio – North Shore Elements YYoga
Dance Studio – RNB Dance and Theatre Arts
Business Lunch – Browns Socialhouse, Lynn Valley
Neighbourhood Pub – Black Bear Neighbourhood Pub
Hiking Trail – Baden Powell (we'll take credit for the Lynn Valley Portion of it!)
Produce Store – Kin's Farm Market, Lynn Valley
North Shore Tourist Attraction – Lynn Canyon Suspension Bridge and Ecology Centre
Biking Trail – Seymour Demonstration Forest
Finalists
Seniors Service – Hear at Home
North Shore Annual Festival – Lynn Valley Day
Community Fitness Facility – Karen Magnussen Rec Centre
Gift Store – Red Tulip Gift Gallery
Caterer – Tommy's Catering
Breakfast Restaurant – Tommy's Cafe
Bakery – Westlynn Bakery
Place for Cocktails – Browns Socialhouse
Private Liquor Store – North Shore Liquor Shop
Hiking Trail – Lynn Loop
Health Food Store – Country Health
Dog Walker – Off Leash Adventures
Veterinarian – Lynn Valley Veterinary Clinic
Place to Walk the Dog – Lynn Canyon
Garden Centre – Maple Leaf Garden Centre
Florist – Posy
Best-Dressed Window – Posy
Drug Store – Shoppers Drug Mart, Lynn Valley
Optical Store – Lynn Valley Optometry
Travel Agency – Expedia Cruiseshipcentres
Bike Store – Lynn Valley Bikes
Seafood – Westlynn Meat and Seafood
Butcher – Westlynn Meat and Seafood
Hair Salon – Zazou