Hope, sweat and breathe. When times are tough, sometimes that's all you can do. And when times are good? "Hope, sweat, breathe" can be the best plan of action then, too.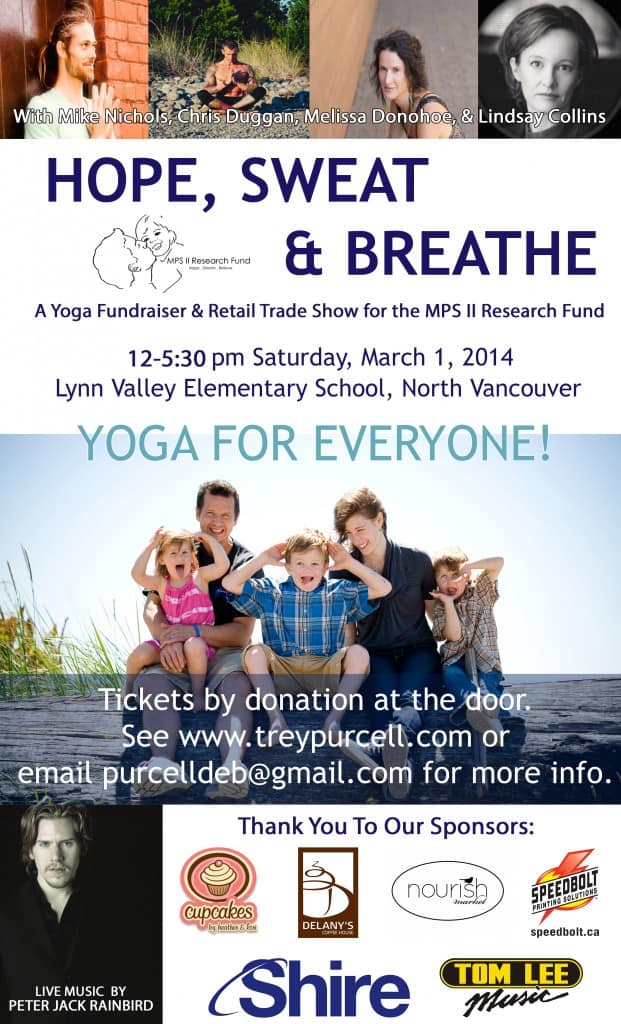 Lynn Valley's Ryan and Deb Purcell have experienced both good times and bad over the past few years, since their eldest son Trey was diagnosed with MPS II Hunter Syndrome  just as he was turning two years old. Deb describes that doctor's appointment as a moment their "world came crashing down." They learned that Trey's rare disease – or "difference," as they like to call it now – would likely curl his hands, compromise his bones and organ function, and shorten his life. (You can learn more about Trey's story here.)
But along with the valleys have come many peaks – most noticeably, Trey's acceptance into a North Carolina-based drug trial that has helped him immensely. Trey travels to North Carolina on a monthly basis in order to receive an IV enzyme infusion into the intrathecal space in his spine, which allows the critical replacement enzyme to cross the blood-brain barrier and get where it is needed.
Ryan and Deb know other families who have not been so fortunate. They help other parents advocate for  similar therapy – while the enzyme is approved for use in Canada, not all provinces will fund its use – and they raise money to fund research into a cure for Hunter Syndrome.
Hope, Sweat and Breathe takes place on Saturday, March 1 –  Trey's 10th birthday, a milestone they didn't always expect to celebrate. It will take place at Lynn Valley Elementary and feature a variety of yoga classes with different teachers. Doors open at noon, and 45-minute classes, suitable for everyone, will be held every hour from 12:30 through to 4:30 p.m. Attendance is by donation, and participants are asked to bring their own mat – and to stay for birthday cupcakes at 4:30! Other features will be a healthy-living trade show and a diamond necklace raffle.
Deb says it was important to her to host the event within Lynn Valley: "I believe community is so, so important. Life and parenting can be hard and I want us to be able to ask each other for help – watching kids, borrowing eggs if you run out while baking, lending tools and helping each other hang Christmas lights, that sort of thing."
And as far as her son goes, she says "I want our community to know him. Especially when you have a child who has a lot of differences, it helps when people know who he is and what he's about. That he may have hearing aids and may act silly or not talk the same as other kids his age, but that he LOVES life …..That all he wants is to be liked and included, just like the rest of us. I want us as a community to know and support our neighbours."
As you can see by her unflagging support and advocacy for other families grappling with Hunter Syndrome, Deb is all about community. And while the number of children with Hunter Syndrome may be a relatively small group, their circle is wide – at the moment, Deb is actively advocating for a boy in Chicago whose condition will likely be terminal if funding for treatment is not approved.
Closer to home, Deb appreciates every bit of support they receive for the cause: "When Trey was diagnosed, Ryan and I were told Trey might not be alive at the age of 10. Everyone who supports our event in any way, shape or form, in my heart and mind, is joining our family…. No matter what the level of support, every bit has HUGE meaning in my heart."
For more information about the event, Hunter Syndrome, or Trey himself, visit www.treypurcell.com.