Today's post continues an occasional feature called Over the Fence – a mini-profile of some of the interesting people who live or work in Lynn Valley. Have a suggestion of someone you'd like to see profiled? Let us know at [email protected]!
Today we're chatting over the fence with David Hewitson, friendly face and supervisor at the Rogers booth in Lynn Valley Mall, and unofficial "mayor" of the community shopping centre.
What brought you to Lynn Valley?
My job and not wanting to cross the bridge every day!
What do you love about your job with Rogers?
Meeting all the people.  I have made many new great friends.  It's the most friendly spot in the city.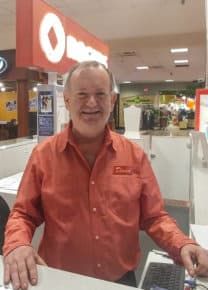 What's most challenging about your work?
Helping people get over the phobia about technology
Name a favourite leisuretime Lynn Valley pastime:
Singing with Bring Your Own Voice-the community choir sponsored by Lynn Valley United Church. We have a concert at St. Clement's on May 28th, come on out!
What was your last big neighbourhood adventure?
Hiking up to Norvan falls and going for a swim under them.
Favourite book and movie?
The Sound of Music,  and Harry Potter
Can you share a great childhood memory?
The first time we went to Disneyland. I was so excited ahead of time, my parents were worried I would be let down, but as soon as we entered the park I started to cry (tears of joy). It was my all-time favourite family vacation.
What's top of your bucket list?
Going to Europe
Favourite dinner?
A nice filet mignon with a Madagascar peppercorn sauce
How about your biggest holiday adventure?
Going with my entire family to Las Vegas for my 50th birthday, thanks to my sisters.
And your proudest achievement?
Winning Radio Shack's national customer service award two times, out of over a thousand stores.
Thanks for telling us a bit about yourself, David – see you around the neighbourhood!