It began as a mom's big idea. Connie Fay saw a chance to create a business that would matter – and with her son Jamie graduating high school she had the perfect business partner to do it with. In 2005 they bought the rundown corner store at Lynn Valley Road and Dempsey and dug in to begin The End of the Line General Store.
---
---
"It's better than we ever envisioned," says owner Jamie Fay. "I never expected to have an impact on the community. People say we are like an extension of their living room. We see families grow up. I've seen kids who were knee high and now they are teenagers – and I know their grandparents."
The idea of creating a neighbourhood meeting place has been shown in research to foster connection and create a stronger sense of identity. It's an idea that rings true for the Fays – respecting and supporting Lynn Valley and the North Shore is essential to The End of the Line's success.
"It is everything we do," said Fay. "We have JJ Bean Coffee. We have artist Vicki English – she lives a block away. Local suppliers reinvest in our community. It draws locals in because we get specialty products first and tourists can get something that will remind them of here."
Investing in local goes beyond suppliers. You may recognize neighbours behind the counter and see the general store supporting Lynn Valley fundraisers. 
The End of the Line is opening its doors for two evenings in December to say thank you to all the neighbours that frequent their store all year long. [UPDATED FOR 2019] Nov. 28 and Dec. 3 from 6-9 p.m. join local vendors and many others for a customer appreciation night.
---
---
The transition from corner store to a thriving neighbourhood amenity wasn't always smooth. Learning as the mother-son team went meant squeezing in part-time school while running a small business which led to challenges.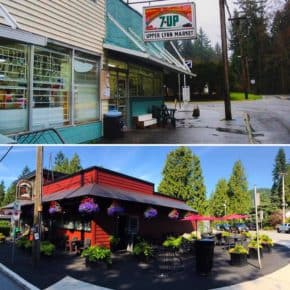 "We knew we had to be committed and we would learn from our mistakes," said Fay. "I didn't know about running a cafe or a coffee shop. I didn't know about managing people."  For him it also meant learning to say "Yes."
"A small business has to jump on opportunities. There is no time to wait. While I was attending BCIT I was approached to do some promotion for the business school," he said. 
That shrewd move came as the business itself was coming into its own. They continued to embrace the "general" in their name by consciously offering something for all ages and to make the cafe feel comfortable and inclusive for all, said Fay. 
"Three to four years ago was a definite turning point," said Fay. "It has taken a lot failure to perfect this craft."
Fay attributes the ideal location as being essential. For more than a hundred years a store has been operating at the same location – first serving the loggers that gave birth to Lynn Valley. When the Fays took over the location they honoured the past, drawing the store's name from its location near the historic last trolley stop from a line linking the headwaters to Lonsdale Quay. Today, without the parks nearby they wouldn't have the visitor traffic.
"When a tour bus pulls up and they all want to use our bathroom that can be hard," he said. "But I think most people see we are small and grab a coffee or we know they will remember us for their next hike and stop by for a snack. If we weren't at this corner we wouldn't be as successful. We know it's the location." 
With year over year sales increasing, the Fays have more plans for the future. They want to continue growing and evolving into what the neighbourhood needs. For 2018:
"I want to continue to make it better," said Fay. "And maybe go on a vacation."
For details on the Nov. 28 and Dec. 3, 2019 Customer Appreciation and Holiday Shopping Nights visit The End of the Line on Facebook.