Every year we have the joy of recognizing a local resident and the good work they do. This has been a challenging year and many, many people have stepped up to support friends, family, neighbours and strangers. People put out the calls for help and others answered. There were huge undertakings like the North Vancouver Cares Foundation which evolved early in the pandemic. This organization is an outstanding accomplishment but this year we also wanted to highlight that the decision to do good can be small and slowly ripple out to deeply impact Lynn Valley, North Vancouver and beyond.
---
---
Almost six years ago Dawn Moore and her friend Ann decided they wanted to get moving, be more active and try to be a bit healthier. 

"We thought if we made a commitment to each other we would stick to it," said Moore. "Pretty soon there were five or six of us and it grew from there."
Today that promise to a friend has snowballed into a group approaching 1000 that gets together every week to walk and connect. The Walkstars has about 200 semi-regulars who drop in now and again and a core group of 40-50 who join the Sunday walks as much as they possibly can. Dawn and her husband Paddy coordinate routes, the sign-up (which in a covid world means contact tracing), and an optional donation.
"Over the years we have offered a lot of support to Covenant House," said Moore. "People share a loonie or a toonie and I save them up until there is a donation matching opportunity. We just donated $700 for part of this year."
---
---
Not all people have close extended family, they don't belong to faith groups and as the years go on, some have lost their partners leading to more solitary lives.  The Walkstars have created a network of support for its participants.
"We have a lot of people who live alone or don't feel comfortable walking alone, or are newcomers to the North Shore," said participant Fiona Lewis. "This is really important to their social connection."
A sentiment echoed by fellow walker John Kennedy.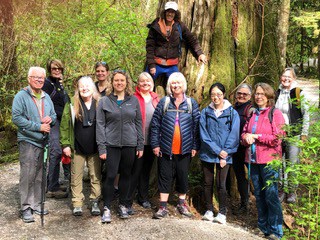 "It's been a lifesaver," he said. "My wife died seven and a half years ago. I live alone, if I get a little bit down, being able to go for that Sunday walk is really important. It is written in ink on my calendar.I look forward to every single time and I miss it like nobody's business when I can't."
He added that some reading he has been doing lately shared the fact the chief indicator of long life is the ability to socialize. For Moore the thriving group has changed much of her social life – adding so many she would never have met if it weren't for weekly walking. 
"North Vancouver is very diverse, but sometimes we don't have the chance to really get to know others," said Moore. "Going for a walk has allowed me to meet people I would have never had a real conversation with, and now we are friends."
Some are even more than friends, Moore laughed. 
"It changed my life," said Lewis. "I lost my husband five years ago and this man who is now my partner. It is so important to our lives."
Over the years Moore has gathered about 40 different routes the Walkstars rotate through. 
"We live in a car society," said Kennedy. "There are places on the North Shore I would not have discovered if it hadn't been for the walks."
Each week the group aims to walk for two hours then share a social coffee at a local shop. They vary the routes aiming for easy and medium terrain. The walks are guided by a leader and have a sweeper at the end – valuable volunteers, said Moore. 
"It's not always the same group but there is a core group that is usually there," said Lewis. "So you are connecting with people you know and meeting new people each time."
---
---
The pandemic brought on a short term hiatus, that was felt deeply, said Kennedy. However, Moore pushed through offering virtual options and then establishing smaller walks with covid distance protocols, said Lewis.
"She created an online walk across Canada and invited Walkstars members to log in and record their individual steps walked," said Lewis. "This was a great way for us to stay connected and be motivated to keep walking.  We finally reached Newfoundland virtually by August!"
Initially a bit skeptical about the virtual events, Kennedy said the group deepened its connection as they met around zoom each week and virtually explored where they "were" in Canada, sharing stories and photos of past trips through the areas. 
"It brought back wonderful memories for us," he said. "It turned out to be a marvelous way to share stories with each other."
Moore spent many hours pouring over the changing covid protocols and making plans for a return to in-person Walkstars. 
"We reduced the number of participants, and broke into two groups," she said. "We wanted to make sure everyone felt comfortable and safe and we didn't want to disrupt other trail users by having a large group."
"Dawn is kind and compassionate, but it is worth saying she is tough," said Kennedy. "She was excellent at instilling discipline into a group – "of a certain age" – that all have habits we don't like to change and tends not to pay attention. Well, we all pay attention to Dawn."
Currently on hiatus to respect the current Provincial Health Officer orders, they hope to be out soon – regardless of weather, said Moore.
---
---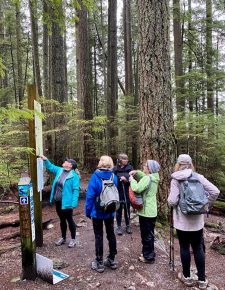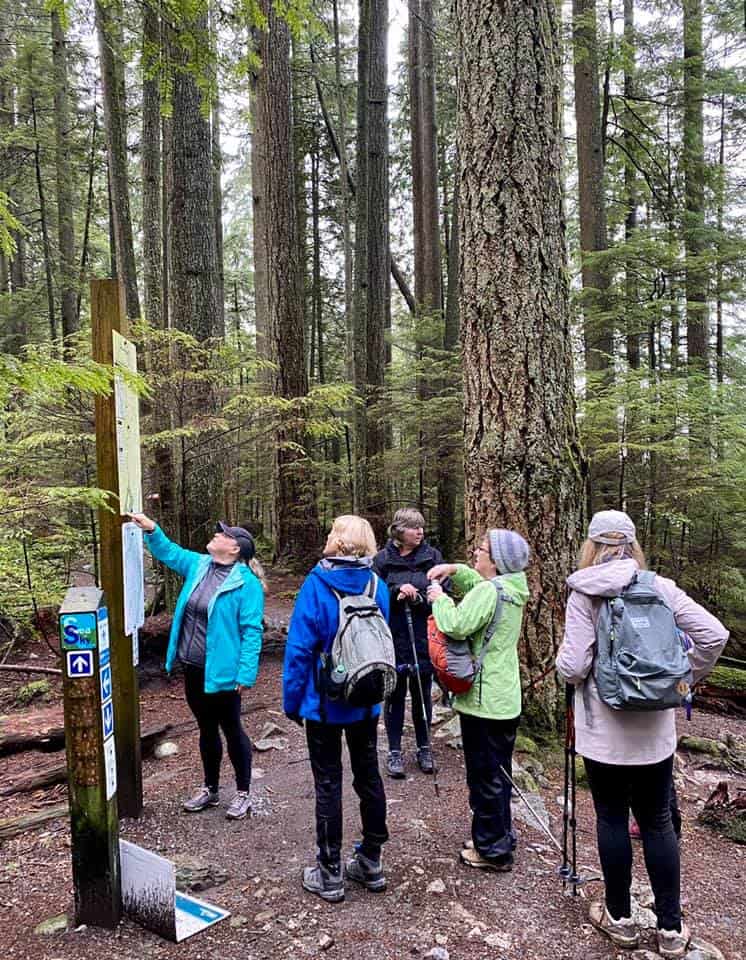 The Walkstars began with a friendship to encourage each other to be healthy and has grown to be a North Shore wide community of caring for many. In a society where lasting social connections can be hard to foster, the simple act of gathering and putting one step in front of the other, has formed a web of support for its members and at the centre is Moore. 
"People always say she is very sweet – and she is," said Lewis. "A very kind person. She is concerned about the people around her. She is intelligent and thinks of others before herself"
Kennedy agrees.
"I generally don't walk around with a frown on my face," he said. "But if you're down, Dawn will notice. She is sensitive to others and will ask if she feels you're just a bit off. 
"Dawn and Paddy are intelligent people so they know they are doing something good, but I don't know if they understand on an emotional level how deeply I feel about what they are doing. I am not sure they really know how big the impact is on the community." 
The future
For any community group in a pandemic, there is a lot of uncertainty. While in-person walks are not an option at the moment, Moore plans to start another virtual walk and zoom coffee soon. She hopes to plan future Walkstar travel adventures which in the past have taken the group to Mexico and she is figuring out the future of Walkstars beyond the pandemic. To learn more about Walkstars visit them on Meetup.