FROM THE EDITOR: Do you consider yourself an opinionated person? If so, this is the week for you!
I can't remember being asked for my opinion quite so often. Between the North Van District Open Houses presenting the new Lynn Valley Town Centre proposal, to tonight's Healthy Communities Conversation Cafe, to a Cultural Plan Open House in the Village on Thursday, there is enough proposing, pondering, possibility-seeking and planning going on to satisfy the most ardent citizen activist.
Thing is, it's not just the typical 'citizen activists' who should becoming out to these events. Lynn Valley is fortunate to be home to a great corps of dedicated people who pay attention to community planning, who take the time to think about the issues, and who give their feedback and follow the process through to its conclusion.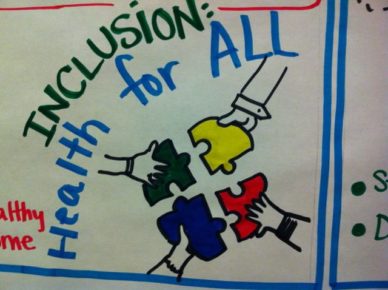 But the decisions being made now don't affect just them. They affect busy, double-income families and single seniors. They affect our lower-income residents and our mortgage-free homeowners. And they affect our children, most of whom will have to leave this community to search out affordable accommodation elsewhere – unless, of course, things change.
At tonight's Conversation Cafe, hosted by Vancouver Coastal Health, the Heart and Stroke Foundation, and North Van District, North Shore Health Officer Dr. Brian O'Connor told us that as far as our health is concerned, district planners are far more important than doctors.
"The decisions they make shape the context of your everyday life," he said. "Your health doesn't depend on the advice of your physician; it depends on where you live."
As just one example, he pointed to study that found a typical, 35-year-old male who lives in a walkable neighbourhood weighs 10 pounds less and has better physical and mental health than his 'twin' who lives in a lower-density, less-walkable community.
It's also been discovered that children who live in higher-density, mixed-income neighbourhoods score better on 'school readiness' assessments than children who live in uniformly wealthy neighbourhoods, as they have easy access to a wider range of community services.
Finally, seniors who are able to stay in their home community have more social connections and lower mortality rates than those who have to leave their familiar neighbourhood.
Clearly, community planning affects every age group, income level, and interest group. Unfortunately, most of us are too weighed down with the busy-ness involved in the present to pay enough attention to the future.
Which is why it's so great the District is doing all it can to make engagement easy, interesting, and – yes – even enjoyable! Take tonight as an example. Attendees were given a lovely, heart-healthy dinner and entertained by a live jazz combo; they heard interesting presentations, had the pleasure of having their views actively solicited, and even witnessed the evening unfold visually as artist Taraneh Erfan King used her felt pens and fine doodling to bring people's thoughts to life.
So, please accept district planners' invitation to get involved. Help ensure that our neighbourhood can be a vibrant community that is home to people at all ages and stages of their life. Over the next 20 years, it is projected that 5,000 people may move into this community – this is not a small project!
If you can't make an in-person event, be sure to make time to review and comment on the proposals online.
A Cultural Plan Open House is taking place in the LV Village Community Room on Thursday, May 3, from 5 to 8 p.m. Details, here. (Heads up, an arts facility for the Lynn Valley area is under discussion, so put your two cents in!) You can fill in the Arts Office online survey, here (until May 18).
For all the information about North Van District's proposals for Lynn Valley Town Centre, see our earlier blog post. You have one more chance to see the displays this week, and that's tomorrow (Wednesday, May 2), at Karen Magnussen Rec Centre from 1 to 8 p.m. Online options for reviewing the plans, though, are available and we've given you all the details.
We promise you'll discover something interesting in your perusal of the plans. Personally, I love the proposed idea of a "Rain Street"! If we've got it, we might as well flaunt it!
– Peggy Trendell-Jensen