We were glad to see what became of some of those pumpkins we saw leave the Lynn Valley field "Pumpkin Patch"! Thank you to everyone who entered our neighbourhood carving contest.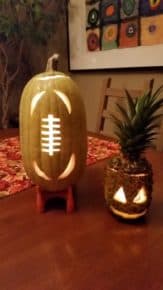 We couldn't help but award the grand prize of a $25 Browns gift card to Pat Symons, football coach of the Pipers' Junior Varsity team, for his carved pumpkin-football – and his carved pineapple-jack o' lantern!
As for the kids' entries below, we know you'll agree that they are all great, and we can't award just one entry. (Click on the photos to see a larger version!) So expect a visit from our sponsoring realtors in the days ahead – they will visit with a sweet treat for all of you!
Special thanks to those entries from Ms. Bonner's class at Lynn Valley Elementary School.