John Gilmour is one of our Lynn Valley neighbours featured on the Lynn Valley Legacy website that is collecting names from readers – not just of notable neighbours who deserve the spotlight, but of potential names for the new Bosa development being built at Lynn Valley Centre. Visit the Legacy website before January 31 to participate – there is a $2,500 prize to be won!
These profiles and photographs are being shared with LynnValleyLife readers with permission of the original author.
John was the former President of the Lynn Valley Community Association. He currently sits on the board of Friends of the North Vancouver Museum and Archive Society and is an active community member.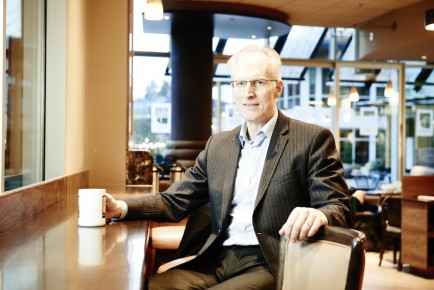 WHAT DO YOU FEEL TRULY DEFINES LYNN VALLEY AS A UNIQUE NEIGHBOURHOOD?
Lynn Valley has a special connection to nature, more so than most other municipalities in Vancouver. The mix between nature and urban development is something special; we forget that the official community plan only passed in the summer of 2011, so the importance of preserving this balance is definitely part of our future.
Also, music is huge at Argyle Secondary School. Many of the kids are part of the jazz ensemble, which is hired by the community for events and proceeds are used to fundraise for the scholarship program.
WHAT IS YOUR HAPPIEST MEMORY OF LYNN VALLEY?
I've lived in Lynn Valley since 1992, my family and my community have been the driving factors that have kept me here so I'd say the happiest memory of Lynn Valley for me is having my children born here. It's an area that has great community events for people of all ages, and my children were able to experience this growing up.
WHAT DO YOU SEE FOR THE FUTURE OF LYNN VALLEY?
I see residents living a mixed-use lifestyle; my vision for Lynn Valley is for it to be a very walkable community. It is now an area that people want to get into and future developments, including the project by BOSA Development, will make a huge difference.
Do you know someone who has, or is, making a lasting impact in our neighbourhood? Visit the Lynn Valley Legacy website to nominate a fellow resident of our community, or suggest a name for the new development being built at Lynn Valley Centre. Deadline for both is January 31, so throw your hat in the ring by then if you'd like to be eligible for prizes!