Bob McCormack is one of our Lynn Valley neighbours featured on the Lynn Valley Legacy website that is collecting names from readers – not just of notable neighbours who deserve the spotlight, but of potential names for the new Bosa development being built at Lynn Valley Centre. Visit the Legacy website before January 31 to participate – there is a $2,500 prize to be won!
These profiles and photographs are being shared with LynnValleyLife readers with permission of the original author. Learn more about Bob in our earlier LynnValleyLife blog post about his many contributions to the community.
Bob was born and raised in Lynn Valley, he has volunteered in the community for 40 years. Roles have included being former Director of the Lynn Valley Service Society, President of the Norgate Housing Society, Board member of the Lynn Valley Committee Association, and a foundation member of the North Shore Disablity Resource Centre.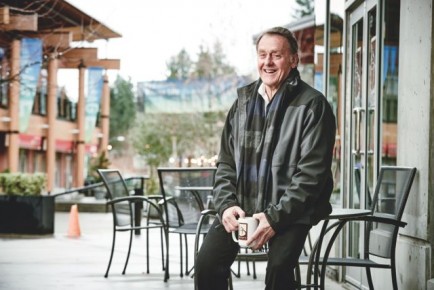 WHAT DO YOU FEEL TRULY DEFINES LYNN VALLEY AS A UNIQUE NEIGHBOURHOOD?
The people of Lynn Valley are so caring; they differentiate this neighbourhood from others in the greater Vancouver area. When I was in my teens, I lost one of my legs as a result of a car accident. My community – everyone from my neighbours to the kids at school, helped me get through it. Without their support it wouldn't have been the same, from a young age they motivated me to get involved.
WHAT IS YOUR HAPPIEST MEMORY OF LYNN VALLEY?
I was fortunate to be selected to be a part of the torch relay in 2010. I carried the Olympic torch from the middle of the Lynn Canyon suspension bridge, to the outside of Lynn Canyon Park. One of my happiest moments from the seventy plus years I have lived in Lynn Valley was standing on that bridge with the torch lit. The organizers gave me a minute to myself, and it was an incredible feeling. And just over the years, having met so much of my community is very memorable.
WHAT DO YOU SEE FOR THE FUTURE OF LYNN VALLEY?
From my perspective, density is important and growth is inevitable to allow us all to continue to live here. Lynn Valley is an incredible place so why not share it? Although we will need to maintain our community as much as we can, but growth within reason is important; the status quo doesn't benefit if there isn't growth.
Do you know someone who has, or is, making a lasting impact in our neighbourhood? Visit the Lynn Valley Legacy website to nominate a fellow resident of our community, or suggest a name for the new development being built at Lynn Valley Centre. Deadline for both is January 31, so throw your hat in the ring by then if you'd like to be eligible for prizes!