It's the time of year to start thinking about the holidays. Lynn Valley has a number of great markets and fairs – some new some tried-and-true. Come out and explore a handcrafted holiday.
---
Festivities start the weekend of November 24th and 25th
---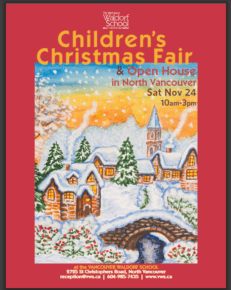 The weekend of November 24th and 25th two Christmas markets are hosting events in Lynn Valley. The Vancouver Waldorf School Is opening its doors from 10 a.m. to 3 p.m. for its Children's Christmas Fair. This much anticipated annual event brings together activities for children to kick off the holiday season as well as handcrafted toys and gifts for children and adults plus treats, crafts to do and buy. The fair is also an open house inviting the public to learn more about Waldorf education. 
"Our Fair is a treasured gift from our wonderfully talented parents and guardians to our students, friends and neighbours," said Mary Henley, community and resource development manager for The Vancouver Waldorf School. "Because Waldorf education nurtures a deep connection with the natural world, creative and practical arts and reverence for childhood, guests at the fair can expect a lovely variety of activities to participate in and an incredibly beautiful assortment of hand-crafted goods to browse in our marketplace. Our marketplace is open to adults-only on Friday, Nov. 23rd, from 6:30 – 8:30 p.m, to allow parents, guardians, grandparents and friends to browse and shop without their little ones in tow."
The school is located at 2725 St Christophers Road and more details can be found on its website.
---
First LVE Christmas Market
---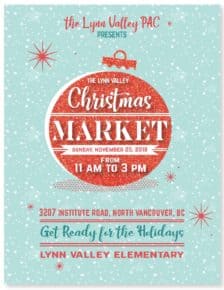 The following day, November 24th, Lynn Valley Elementary is hosting its first  Christmas Market from 11 a.m. to 3 p.m. More than 40 professional artisans and crafters from throughout the North Shore and Lower Mainland will be  offering their wares along with a curated collection of student vendors. The parent advisory committee will also be hosting a bake sale and cafe. The entire community is invited to this free event. Lynn Valley Elementary is  at 3207 Institute Rd. More details can be found here.
---
Neighbourhood favourite: Ross Road Winter Fair
---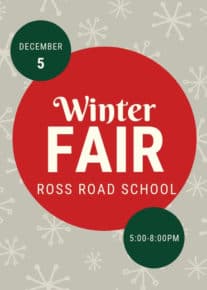 The Ross Road Parent Advisory Committee invites the community to join it for the school's annual Winter Fair. The Fair features Christmas crafts made by the students, a bake sale, shop 'n wrap room, and a dance party room. Stop by Wednesday, December 5 from 5-8 p.m. at Ross Road Elementary School, 2875 Bushnell Place in Lynn Valley. This is a free event open to the public. Come support our students and enjoy some Christmas cheer.