Four years after a rockslide dramatically changed the Seymour River the replacement pedestrian bridge at Twin Bridges will open as early as late this month.
---
---
In November 2014 following a severe rainstorm a landslide entered the Seymour River.
"The rockfall was about three-quarters of a kilometer downstream of the original Twin Bridges site," said Heidi Walsh, director of watersheds and environmental management for Metro Vancouver. "And we had about 50,000 cubic metres of rock come into the river."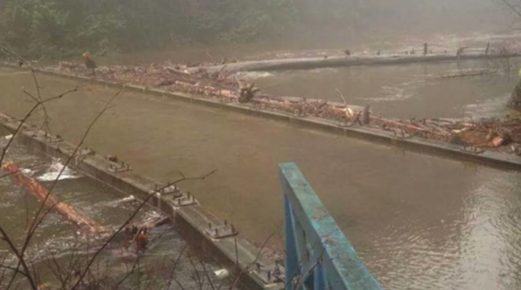 With the debris entering a steep canyon it caused an approximately 800m backup that pools into a pond which drains in the summer but during the winter remains backed up, explains Walsh.
"When the rock fall originally came down the water backed up high enough to go over top of  the bridge," said Walsh. "We had to take the railings off as an emergency measure and wait for the water to recede. Then we took it out in late January.
"I think everybody understood that it was safety issue. There are provincial standards that require a certain amount of free board [space between the water and bridge] during storm events so the bridge was no longer in compliance with those standards."
The impact of that 2014 storm also extend to trails, resulting in a number of closures and detours.
---
---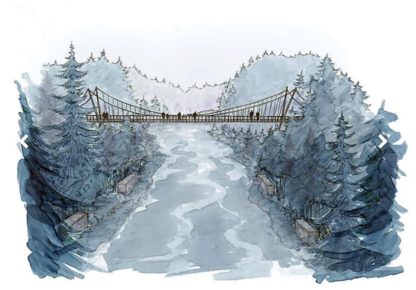 The project encountered several challenges and delays. The replacement project was designed with three bridges – a replacement pedestrian suspension bridge at Twin Bridges, a new vehicle crossing at Riverside Drive and a temporary bridge to help accomplish the project – along with some trail building. Originally the project was put to tender in 2016 as separate projects.
"The price came back much higher than we anticipated," said Walsh. "We tried again by packaging the suspension bridge and the vehicle bridge together and again it came back too high – almost double our approved budget."
She attributes the challenges to poor timing – high project volumes offered to construction firms by the provincial government.
"We asked our board for a little bit more money and decided to package everything together as one big project," said Walsh. With a successful tendering process completed in January, construction began this spring.
---
---
This winter the public will be able to take its first steps over the new pedestrian suspension bridge.
"It's not a swinging suspension bridge," said Walsh. "It's very stable. We designed it so that you could ride over it with your horse – so the railings are high and it's very solid. It is meant for bikers, hikers and horses so it won't move when you're on it."
The change in river flow had significant impact on the final design, she said. Originally a vehicle bridge was considered for maintenance and emergency access (and completed at Riverside Drive in the final project). The steep slope that approaches Twin Bridges would require the bridge to be raised up resulting in a much longer bridge deck than the previous bridge, said Walsh. The east side's bedrock also created issues for a landing substantial enough for vehicle traffic resulting in a project that would have been much larger than the previous bridge and more expensive than ever planned, she said.
"The bridge needs to be able to withstand a one in 200 year flow event so you need to be have a certain amount of room under the bridge to allow for water, debris and rocks move underneath," said Walsh. "So in order to get that standard we had to raise the bridge up.
"It is slightly downstream from the original bridge so we had to build short access ramps to get to it on the west side. We had to put in a short 150m trail spur.  The main concern on the other side is a mountain bike trail called Bottletop. We are very close to where it used to exit onto Fisherman's Trail so we had to do a little bit of redesign with that exit."
At this point the bridge is almost complete. Once the temporary bridge is removed and the site cleaned-up Walsh expects the official opening to be between late November and mid-December.
"We are a little behind schedule there because we needed to do some redesign of the anchors on the east side," she said. "The towers are there now, the bridge approaches are there, the anchors are all in. They really just need to string the cables and put the decking and railings in."
Images courtesy of Metro Vancouver