Kids and adults alike will soon be kicking up a storm in Lynn Valley. Debuting this September there is a new martial arts gym at Lynn Valley Village. Putting a twist on the typical gym, co-founder Denise Dehestani is excited to offer something she, as a parent, knows is desperately needed: a daily after-school program. 
---
---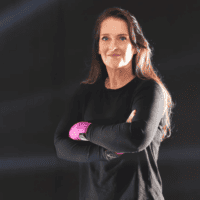 Set to take over the former RnB Dance space in Lynn Valley Village, Lynn Valley Martial Arts is offering programs in Muay Thai kickboxing for all ages. Their schedule has classes for kids, teens, adults, and an after-school program. Combining her passions for kids and martial arts, Dehestani drew on her experience as chair of the Ross Road Elementary PAC to come up with a program she hopes will support working parents. Kids 5-12 can enroll in the after-school program for three, four or five days a week.
"I saw a need in Lynn Valley," she said. "There are lots of requests at the school for after-school programs. There are different programs coming in on different days for different ages. There isn't five-day-a-week consistency. [Children] will play or do a bit of homework and then we'll have an hour of martial arts training wrapping up just in time for parents to pick them up. Right now we're starting with offering pickup from Ross Road Elementary and Lynn Valley Elementary."
Not inexperienced herself, with a black belt, Dehestani has partnered with brothers Blake and Dean Lirette who were born and raised in Lynn Valley. In the past, they have had a martial arts studio in West Vancouver and currently have one in Port Coquitlam. With more than 45 years of kickboxing teaching experience between them, they will be overseeing the programming. 
---
---
Less common than karate or jiu-jitsu, Muay Thai – sometimes called Thai kickboxing – combines kicking and punching using fists, elbows, shins and knees.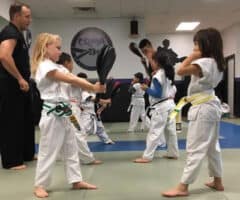 "Muay Thai is what we know. Myself and my daughter attended West Van Martial Arts – which is where we met Blake and Dean," she said. "It's a little different. There are studios on Lonsdale and in Lower Lonsdale that are more typical – like karate. 
"It's great exercise. It's great for defence – self-defence is a big component. It's great for kids to have a bit of self-defence – adults too. Building confidence, discipline, structure, focus, coordination, flexibility, balance and community. I find that martial arts builds a really good community. In my experience in martial arts, you build friendships and socialize. Especially with the after-school program – you are getting your fitness, you are getting your discipline, you are learning a new skill and also building friendships."
---
---
The new studio aims to be a welcoming space that encourages people of all ages to give it a try.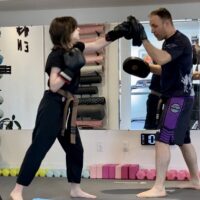 "I feel that with martial arts, you are doing it individually in a group setting," explained Dehestani. "In a dance class if you have a beginner and they are with advanced students doing an advanced dance you are really going to notice. The beginners are going to struggle in that routine. Whereas in a martial arts class, you're learning your different punches and kicks and coaches split you off and work in small groups or individually. When there is partnering, people tend to pair off and work with their level. It's a good environment for growth."
Another program they are excited by is Lil' Ninjas on Saturday mornings for three- to six-year-olds. There will be open mat time for adults with a membership so kids and parents can both get on the exercise at the same time. Lynn Valley Martial Arts will be primarily working on a membership model. They will be also offering drop-ins or trials of some kind to help people experience a class before committing to membership but details haven't been finalized, said Dehestani. Start-up costs are relatively low: teens and children need a uniform and all athletes need gloves and wraps. 
The studio is planning to open its doors on September 5 but now is the time to secure after-school care. For more information visit https://www.lynnvalleymartialarts.ca/.