Tucked into the east side of Lynn Valley Centre an oasis is forming for local kids and parents. Forest Fairy Books and Toys will be opening its doors later this month aiming to foster whimsy, wonder and joy.  The store of mother-daughter team Avril and Hannah Whitney's dreams wants to be a safe third space to help the community and children grow.
---
---
A new store run by a family, Forest Fairy Books and Toys is also rooted in family. It is the culmination of Avril Whitney's childhood aspirations to follow in her mom's footsteps.
"When I was little my mom was part owner of a store called Through the Looking Glass in Nelson BC, which has been there for over 40 years and is still there. I had the joy of being in a bookstore when I was young. Then later, I was able to run the toy store for our [Waldorf] school in Calgary. I was exposed to a lot of natural materials and really great imaginative play that supported the development of the imagination of a child."
After moving to North Vancouver six years ago, Whitney was keeping an eye on commercial real estate with the hopes of one day opening a store. Little did she know that she would have a very special partner. 
"Last November I asked my daughter if she wanted to check out the [Lynn Valley] space, as we got into it we were both visualizing and dreaming about what it could be. I said 'Wait a minute, are you doing this with me?' It fits with what she wants to do with her career and both our desires to build community." 
---
---
With Avril's past experiences in childcare and as a parent, and Hannah's goals as a doula to set families up for long-term success, they want Forest Fairy Books and Toys to be welcoming and child-centred.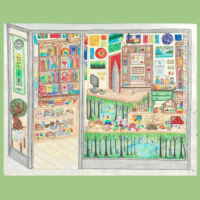 "We want a place where people can feel good and experientially come in and enjoy the store," said Whitney. "It's a small place, but we have made sure there is a place for the children to come in and be and a chair for someone to come in and read a book."
Whitney has painted two walls with murals and carefully handcrafted wooden shelving. The time and energy invested in design has also been invested in the selection of products they carry.
"Both my daughter and I are kids at heart still," she said. "We really appreciate imagination, wonder and beauty. That still resonates and it's so joyful to see it resonate with children. 
"What I know from working with children myself: the more tactile, the more natural, helps children thrive in the play space of their imagination. You can hand a child a piece of coloured silk [cloth] and it can become something to wear, it can become water, it can become a child's blanket – it can become anything you want. It's an open-ended play. The idea is that beauty, nature, and wonder come naturally to children and all they need is an invitation." 
It's a lesson she thinks adults can learn too.
"These toys remind us that we live in a very stimulating world with short attention spans, and it's okay that you breathe for a minute and play," said Whitney.
They will also carry a variety of curated books. Initially, it will focus on children and youth but the collection may expand. From first board books to learn-to-read to stunning picture book keepsakes, they hope families will find one they want to take home. 
"I imagine most of our clientele will be between zero and 12 years old," said Whitney. "We are going to carry novels all the way up to YA. We want to be responsive to what people are wanting. We want to be inclusive and supportive of indigenous people. There is so much great stuff available."
Forest Fairy Books and Toys is wrapping up its final approvals with the DNV. It hopes to open some day between Aug. 15-19th, depending on that process. You can find the small shop inside Lynn Valley Centre near the east entrance. It is tucked down the hall between Westlynn Bakery and Romance Jewellers.