A big tent kept merry-makers dry and bales of hay provided the seating at the wrap up of the Lynn Valley Christmas event in Lynn Valley Village.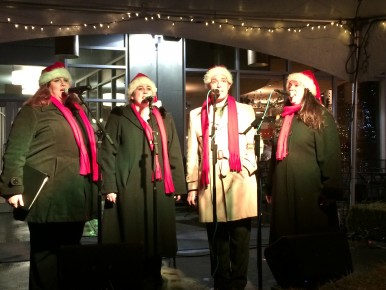 Those who braved the evening weather were treated with holiday barbershop tunes from the Afterglow Quartet, kids' activities in the community room, and even the chance to chat with Santa about last-minute wishes.
The big tent was full to overflowing by 7 p.m., when event organizer Dave Bruynesteyn took to the stage to announce the winner of the Best Decorated Christmas Tree, a people's choice award tallied from votes taken from the big red mailbox in the village square.
This year's winner, by a landslide, said Dave, was Team Finn, the ongoing Lynn Valley-based team that has raised over one million dollars for the B.C. Cancer Foundation since three-year-old Finn Sullivan succumbed to the illness in October 2008. (To learn more about their amazing efforts, have a look at this previous post.) A good number of Team Finn'ers were on hand to accept the engraved plaque, which had been removed for the occasion from its usual location on display in Delany's.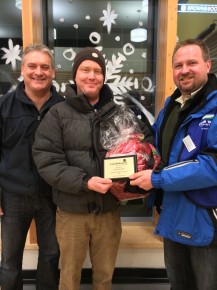 Next it was LynnValleyLife's turn to announce the winner of the Good Neighbour Award for 2013. It gave us a huge amount of pleasure to recognize Gord Trousdell of Burrill Road, and to read out this nomination sent in by an admiring neighbour. Gord had been invited to the event by his friend, so was on hand to accept the surprise honour. He received a plaque from LynnValleyLife's Kelly Gardiner and Jim Lanctot, and a gift basket that included a Black Bear Pub gift certificate, a card, scarf and four tickets to Friday Night Live from Lynn Valley United Church, yoga passes to Laughing Chakra yoga, Christmas CDs from Rave On Studio, and a personalized tour of the RCMP detachment from press liaison officer Cpl. Richard De Jong.
Gord was touched by the recognition, as was his family – from his young kids all the way up to his mom – who were on hand to watch him receive the well-deserved honour. We hope you keep an eye out for other wonderful friends of the community in the days and weeks to come – we will be starting to ask you for nominations for the 2014 award in just a few months!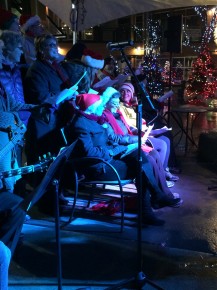 The neighbourly evening wrapped up with a carol sing with the BYOV (Bring Your Own Voice) choir out of Lynn Valley United Church, a community choir that anyone is welcome to join. Director Mary Yan invited people in the crowd to consider coming out to join the group – all you need is a love of singing.
Once again, our thanks to Dave Bruynesteyn, Gillian Konst and other hardworking helpers in the Lynn Valley Community Association and the Lynn Valley Lions who turned Lynn Valley Village into a Christmas wonderland for the holiday. If you'd like to give your neighbourhood the gift that keeps on giving, please consider joining your community associations so that there is enough people-power to keep these and other great events going strong into the future.
From all of us on the LynnValleyLife team, we wish each of our readers, clients and friends the blessings of joy and peace at Christmastime and in the year to come.