Kirkstone Park will be buzzing with free family fun this weekend. The Lynn Valley Community Association is launching their Family Fun Fair Saturday, September 10 from 10 am – 2 pm. 
---
---
The Lynn Valley Community Association is bringing together local businesses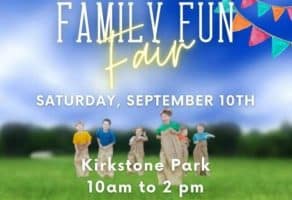 and community groups for what it hopes in a new annual event this Saturday. 
"We wanted to do something that would be fun for the whole family and not cost a lot," said Shannon Epp, LVCA treasurer. "Things are getting expensive."
On the agenda for Saturday is face painting, games and relays, a dunk take and more – all free to families. There will also be a DNV Firefighters Charitable Society BBQ with food donated by Save-On-Foods supporting their causes. 
The event was born out of the goal of bringing the community out to participate in some old-fashioned fun. 
"We have gone through two-and-a-half years of covid," said Epp. "We [the LVCA] do our Christmas Tree [Parade] and wanted to do something else. We started thinking: 'What was fun when we were growing up?'" 
Discussions came to the conclusion that the joy of the classic sports day was the way to launch what the association hopes is an annual event. 
"We want people to have fun," she said. "This is the first year. We have had a positive response – we hope it grows and more people get involved in future years."
With the event a few days away, there is still hope a few more volunteers will offer their time. Volunteers can contact the LVCA at [email protected]. The events kick off at 10 am on September 10 and wraps up at 2 pm at Kirkstone Park. Walking or rolling is encouraged. 
"I want to see people smiling, laughing and having fun," said Epp.
Come out and see Jim & Kelly as they host the family games. Lots of fun with potato sack, 3-legged and egg and spoon races. Plus the always entertaining balloon toss! We can't wait!