If you live near Argyle Secondary you may have noticed a bit of buzz around the school this summer. More than 20,000 new neighbours have moved onto the campus – and they are bringing a sweet educational opportunity for students. 
---
---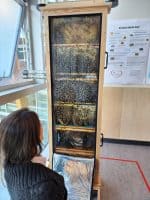 A new bee hive was established at Argyle Secondary in mid-July. The project – initiated by new science teacher Magali Chemali – was fully funded by the University of British Columbia with support from the Natural Sciences and Engineering Research Council of Canada (NSERC).
Speeding in and out of a small circular hole on the second floor of the school, honey bees are hard at work establishing a colony that Chemali hopes will grow to 50,000 bees. The glass-sided hive stands, bolted to the floor, about the size of a door where students can pass by and check out their new schoolmates. 
"My goal is to develop curiosity," said Chemali. "I believe we need to show students connection to build bonds and grow curiosity. As humans, we need to feel connected to care."
---
---
The hive is small by honey standards and will serve as an educational tool, rather than an agriculture producer.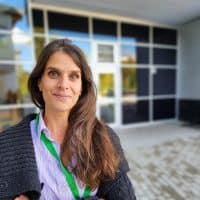 "There are so many ways to tie the bees to the curriculum – all the way from K [kindergarten] to 12," said Chemali. "Students won't do a 'bee unit' but it can be tied into learning about ecosystems, life cycles, reproduction, math – the hexagon shape, symmetry, philosophy, social systems like hierarchy, literature – there is so much written about bees in literature."
While not native to BC, honey bees offer opportunities to engage in Indigenous ways of learning as well. 
"The bees offer an opportunity to observe and learn from the bees – it's a way to use nature as a teacher that has been done here for centuries," she said. "Students may have heard the example of observing a bear as a teacher – if a bear eats a berry, it is likely safe for a person. If it doesn't, definitely don't eat it. 
"Bees are a chance to try that look and learning. They are connected to the seasons, the weather. By watching the bees you can learn about what is coming."
---
---
The arrival of the hive was a full-circle moment for Chemali who fell in love with bees at school.
"I was living in California and volunteering at my child's school," she said. "They knew I had a biology background and started me on a bee-keeping project – I knew nothing about bees!"
The experience sparked a passion within Chemali that led to a lot of learning and eventually the creation of a company that builds and helps maintain hives. To date there are seven in West Vancouver schools and another is planned for installation at Windsor Secondary in North Vancouver as part of the same funding project as the Argyle hive. 
Bees face challenges
Another goal of the hive is to simply create an opportunity for more pollinators to help local ecosystems. Globally honey bees are under threat from a parasitic mite. 
"The hive is one step. A group of dedicated teachers here at Argyle are working together on a garden project which will include more pollinator-friendly plants, together with various indigenous plants," she said. "I am feeding the bees [nectar] because I am not sure they will have enough honey to survive the winter. There are not enough bee-friendly flowers in the area to support the bees.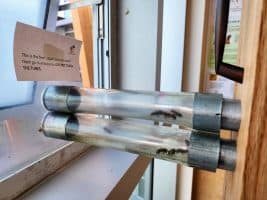 Bees don't like plants like roses – those are for us."
The observational nature of the hive, with windows, can also be a challenge for the bees that require a warm temperature to thrive. To support them, the hive has warming wires and when not in use, covers to keep the bees warm. 
Previous installations of the hives have proven safe for students.
"Bees have a job to do – to fly and go to a flower and get to work," said Chemali. "Bees are not interested in us – they aren't interested in what we eat [unlike wasps]."
She expects the hive to more than double in size over the next year and will have about 50,000 bees when it reaches capacity. 
"My goal is to have students become bee stewards," she said. "To feel connected to nature, to realize they have an impact and to appreciate they are sharing this space with another species."