With March Break fast approaching there is always a bit of panic: how will the kids keep busy when you are at work? LynnValleyLife is looking at three made-in-LV solutions to engage and challenge children and provide some experiences far different than the classroom.
---
---
When you live in the heart of mountain bike country, it's natural for your tykes to want to hit the trails early. Lynn Valley's Escape Adventures Bike and Adventure Camps has been creating little rippers for more than 10 years.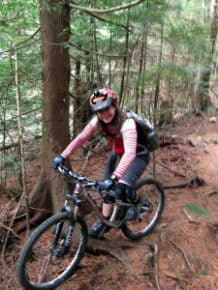 "Getting kids outside and active is foundational," said Tammy Strothers, owner. "When youth start building skills in an area it starts building their confidence. And that confidence often slides into other parts of their life."
Inspired after helping her own children through challenges they experienced within the education system and seeing the pride and confidence from outdoor activities carry them through tough days led owner Strothers to get involved with Escape three years ago.
"Three words: skills, confidence, passion. We hope that skills will lead to confidence that will lead to a passion for life-long cycling or a passion for being in the woods or outside."
---
---
All year long Escape offers programs to get kids active and outdoors. From getting preschoolers off their training wheels to skill-building trail riding to speciality classes like working together to create their own mountain bike video. Beyond bike camps, Escape also does Adventure Camps which this March will feature time at the Ecology Centre, swimming, rock climbing at the Hive and much more. Escape even offers skill camps for adults so your children won't leave you behind on the trails.
For Spring Break, Escape Adventures is offering a range of programs for three to 15 year olds. Based out of Upper Lynn, kids experience all that Mount Fromme has to offer, plus some adventures throughout the North Shore.
"We break the kids down by skills – so a child can actually move through the groups as the week progresses," she said. "They can move up or if they are always at the back of the pack and their confidence is starting to wane, we will pop them down a group and suddenly they are leading and their confidence is growing."
---
---
For teens who have aged out of camps, Escape hires dozens of local youth each year.
"We need local youth who have grown up here and know the trails. We often get youth who have reached that third point – Skills. Confidence. Passion," said Strothers.
Last year Escape had a coach who would wake up, do a few laps of Fromme, and then head to class at Argyle having had that energy release and fun before settling into the day.
"That passion shows through in the way they coach," she said. "They speak from experience: 'I know it's hard now but you are going to be so stoked to do this'  or 'THIS is so awesome and this is how you do it.' That is so motivating to the kids. Why not work outdoors? Why not share what you love? It's a neat opportunity."
---
---
There are some practical steps to remember for an outdoor camp on the North Shore. Most important, says Stothers: Get your bike checked! Don't wait until the morning of the camp. Give your child's bike a once over and take it into a shop for tuning and sizing and to ensure if it was put away in the fall it is ready for the mountain. Otherwise it is about dressing for the weather.
"Think about it a little like cross country or downhill skiing: layers," said Strothers. "Try to use wool and stay away from cotton because it gets cold when it gets wet. Then rain pants and a rain jacket. They don't have to be head-to-toe rubber."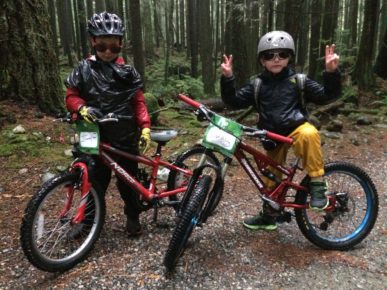 Tuck extra gloves or socks in ziploc bags and into their backpack if they are needed.
"I teach my staff that we set the tone – if we are moaning and groaning about the weather, it's no surprise that they have five or six kids complaining," she said. "It's up to us to find the positive and keep them going."
For all the details on Escape Adventures upcoming classes and March Break camps visit its website. For details on working for them check out this page.
Are you or your organization offering spring break adventure activities in Lynn Valley? Feel free to let the neighbourhood know by posting directly onto our Facebook page!