The North Shore Emergency Management office has just released a plan to get residents thinking about how they will take care of their families if disaster strikes. This is part three in our series about environmental risks, wildfires, and the impacts on the North Shore.
---
---
A new director took the reins of the North Shore Emergency Management this past January. As Emily Dicken dove into the new role, she was pleased with the foundation built by the Districts of North and West Vancouver and the City of North Vancouver. As the risks around the province rose this summer with increased wildfire risk, it was an opportunity to see our regional plans in action. 
"The depth of capacity found on the North Shore supersedes a lot of municipal spaces," said Dicken. "When municipalities work in silos, there isn't the depth of capacity to manage large-scale events. On the North Shore because we have that tri-municipal program, we have been able to build incredible program capacity. We also have a huge depth of volunteer support we can draw on. We have people ready to drop everything in a time of crisis to help their community."
As the province looked beyond the Interior to support evacuating communities, the North Shore was able to not only send firefighting resources to help, it was able to open its doors to evacuees. Residents of an Interior community came to the North Shore and NSEM supported with lodging, clothing, meals, Indigenous culture wellness – and even some fun activities, said Dicken.
  "People were coming to the North Shore because we had the capacity to support that," she said. "It was an opportunity to test our functions and approaches without going through our own incident. We never really know what a response will look like until we're in it. It was a chance to learn more without direct impact on our community." 
---
---
An early goal from Dicken was to build on the procedures in place at the municipal level and engage residents at the household level. The wildfire season was a fitting time to release the new North Shore Evacuation Guide.
"We know when people are prepared to evacuate is less traumatic and we know – even if you are prepared – evacuating is very traumatic," said Dicken. 
"Given we had a potential for a devastating fire season and the impact on the forest from the looper moths I felt it was a great place to start with our evacuation strategy. We have a lot of work to do to communicate our expectations at the household level in an emergency. There is an incredibly rich and resilient evacuation plan and process in place for the various response agencies, but citizens don't have access to that. What we tried to do is take the information we want people to know and break it down into action they can take in a tool that is easy to understand."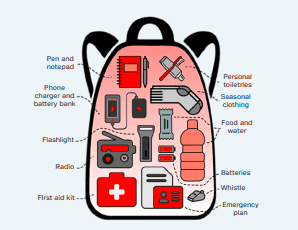 The new guide covers the steps households should take prior to and during an evacuation. Most residents are not ready, said Dicken. People tend not to engage in preparedness unless they have gone through one before, she added. 
"It comes down to the household level to be prepared for an evacuation," said Dicken. 
The guide begins by walking residents through the steps of their own personal evacuation plan. It covers what to pack in a 'grab and go' bag, as well as setting up a family and friends communication strategy. 
"We know there are some people in our community who will struggle with evacuations – people with mobility challenges, seniors who no longer drive and others who are in isolation," she said. "There are gaps we need to close. This is 'evacuation plan 1.0' and it will evolve."
The other key takeaway from the evacuation guide is to download the app Alertable. 
"Alertable will ensure people get information. The important part is not just the notifications that an evacuation is happening, there will be enough context provided that it will tell you where you can go safely."
Dicken notes that Alertable is an additional tool with increased efficiency and comprehensive information but will not replace the neighbourhood or door-to-door notification will still take place by the fire department, police and volunteers in an emergency situation.
---
---
Like many agencies, there have been challenges in the last 20 months for NSEM to continue its public education campaigns.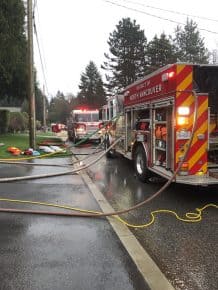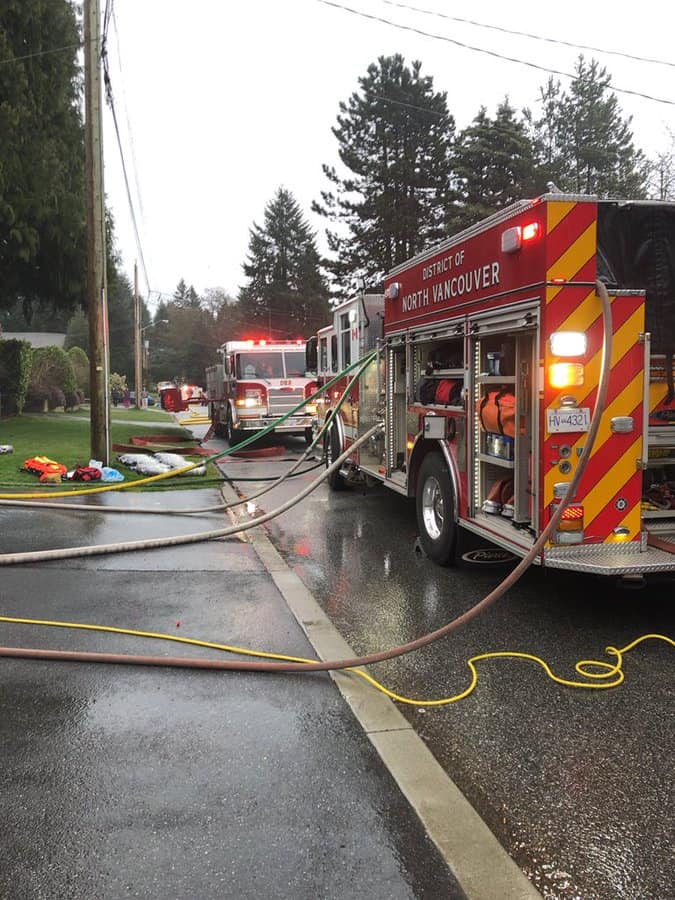 "With covid, it has been a lot harder. In normal years we would be in the schools doing presentations, we would be out at community gatherings and events," she said. "There are these limiting factors that reduce the dialogue on what preparedness looks like." 
NSEM has stepped up in important ways during this time. After the March stabbing at Lynn Valley Village, it moved out of its usual emergency support to leverage its provincial connections and resources to establish the Crisis Wellness Centre at Karen Magnussen providing mental health support for community members. 
When planning a response to a region or neighbourhood wide crisis, Dicken assures robust plans are well established. 
"There are almost no scenarios where we would need to evacuate the entire North Shore," she said. "If you think of a seismic event, we won't be using our bridges right away. We would look at other interoperable methods of transport like the Seabus until we know our infrastructure is stable."
For a scenario like wildfire, the response will be measured. 
"There won't be a mass exodus of the North Shore," said Dicken. "What it will be is a very staged and focused evacuation where what we'll do is move certain neighbourhoods out of the North Shore or into other areas." 
If you take the time to plan, prepare your family, and download Alertable, you will be in a better position during a crisis, she said. 
"Intuitively, we know the best way out of our neighbourhoods. It can become paralysing if [government/support agencies] prescribe routes. It's about creating a plan for your household, your neighbours and, if you work off the North Shore and have children, that you have a plan in place for them."