This is a tough day, the morning after tragedy. We are buoyed up by all of the outpouring and offering of help.  We will keep this page update with information as we get it. 
---
---
Two dead, 70 "permanently displaced" aka homeless
An early morning fire in the Lynn Valley area of North Vancouver has tragically claimed the lives of two individuals. The fire broke out at approximately 2:30 am on Monday, June 11, 2018 involving a two story apartment complex in the 2000-block of Whiteley Court.
The fire was fully involved when emergency services arrived on scene. District of North Vancouver Fire Dept. battled the aggressive fire for several hours before police and fire personnel could safely enter the burned wooden structure.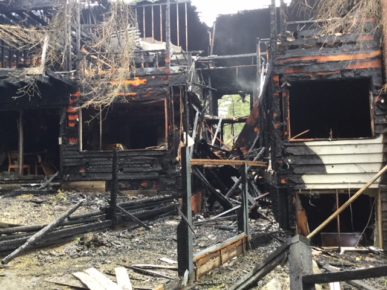 The bodies of the two victims, both from the same family, have been removed from the fire scene. The age and identity of the victims is not being released at this time. A full investigation of the fire is being conducted by the North Vancouver RCMP Arson Unit, District of North Vancouver Fire Dept. and the BC Coroners Service. There are approximately 12 other injured residents who have been taken to several hospitals in the lower mainland with various injuries.
The North Shore Emergency Management Office (NSEMO) was activated to help with the evacuated residents of the three neighbouring apartment buildings. Those evacuated have since been allowed to return to their residences. There is extensive damage to the 17 units of the fire ravaged building. Approximately 70 residents have been permanently displaced from that apartment building.
---
---
A meeting for residents:

Community Recovery Meeting Details:
Wednesday June 13, 2018 from 6:00 – 8:00 pm
Karen Magnussen Community Recreation Centre
2300 Kirkstone Road
Eagle Meeting Room

Representatives from North Shore Emergency Management, the District of North Vancouver, Fire, RCMP, the Canadian Red Cross and other community organizations will be present to provide updated information to those that have been directly affected by the incident and to provide them with support and follow up services as needed.

Space is limited so we ask that attendance is limited to people directly affected by the fire so that they receive the priority services and supports they need.

North Shore Emergency Management

is the official aid contact, they will be coordinating official relief. They are

online

or at

778-338-6300. Rental homes are most urgently needed please contact NSEMO if you have a unit available. 
Donations can be made through the Lions: www.lvlions.com – The bank account for donations is with BlueShore Financial and is account number 93081553, Fire Relief is the name on the account. FYI –  Lynn Valley Lions Club Society cannot issue tax receipts because they are not a charity.
Childcare available: Bee Haven childcare, would like to offer free temporary childcare for children ages 3 to 5 years and possibly ages 0-3 years for families in need due to the fire in Lynn Valley. We hope we are able to offer some respite for the families as they negotiate the process of finding accommodation and dealing with insurance. Please have families contact us at 604-216-7116 and press option 2 for Kim Dunn.
Harvest Project is open to receive donations of clothing, food and toiletries right away. They are ready to help our Lynn Valley neighbours who have lost so much in this devastating fire. Contact Philippe Segur at (604) 983-9488 ext 304 to arrange needs. http://www.harvestproject.org/
RNB Dance would like to offer a free Summer Dance Camp (4yrs-17rs) to the children of any families directly affected or displaced from the fire at the Mountain Village Garden Apartments. If you are in need please call us at 604.980.3040 or e-mail [email protected].
There are collections for items at:
June 16th 1-4 at the Lion's tent during Lynn Valley days (Volunteers are needed to help sort)
June 18 – 7-10:30am at Lynn Valley mall. (Location TBA. Please do not drop off bags outside collection times)