It looks like programming and events might be returning to Lynn Valley Village this summer! There are dates scheduled for both music and family games on the calendar.
---
---
A little piece of the Vancouver International Jazz Fest is hitting Lynn Valley Village plaza on June 26. Toronto's Kobo Town will deliver its redefinition of Calypso music and Caribbean sound. It will be a chance to get the whole family moving during the free concert from 2-4 pm.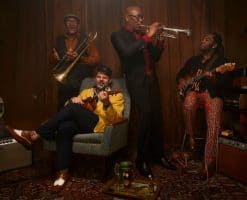 "Kobo Town will be a perfect band for a sunny afternoon in Lynn Valley Village," said Fiona Black, producer, North Shore Jazz Series in partnership with TD Vancouver International Jazz Festival.  "Typically for the Lynn Valley show, we strive to get an upbeat, family-friendly, fun band that will get folks dancing and enjoying the summer vibe in that great location. Drew Gonsalves, the leader of the band, hails from Trinidad and brings a very authentic calypso Caribbean sound mixed with ska and reggae for an irresistible, danceable blend of intoxicating beats."
Starting June 25, there are eight events in eight days bringing both Canadian and international jazz to the North Shore Jazz Series. The events are produced independently through The BlueShore at CapU in partnership with the TD Jazz Festival. It was born out of a series of highlighting students' achievements that was extended to partner with Coastal Jazz to create the NS Jazz Series. The BlueShore Financial Centre for the Performing Arts will be offering four ticketed events this year with additional four free community concerts. 
"I was conscious of developing a series that was distinctive from the offerings of the main festival and not attempt to compete with their shows," said Black.  "It made NSJ delve into many genres beyond jazz to make it a unique offering that would be complementary to the main festival."  
The events are an opportunity to hear something new.
"Jazz in the context of jazz festivals certainly is more of an umbrella term inclusive of many styles and genres," she said.  "In addition to our purely jazz offerings, NSJ offers blues and world music which are certainly related to jazz and often employ some improvisation and stylistic similarities.  The TD jazz festival is a great opportunity to be open to new sounds, new bands and new experiences with lots of free and accessible options."
---
Other summer plaza events
---
Doing a little digging, it appears North Vancouver Rec is adding additional programming on Tuesdays and Thursdays evenings in the plaza with Family Big Games starting June 28 but the organization would not confirm any specific information at this time. Check out their page sometime in the future.