One of Lynn Valley's most missed traditions is returning for the first time since 2019: Lynn Valley Days. Block off your calendar for July 15 & 16 for the gala, parade and festival.
---
---
It has been a quiet couple of years. As the world slowly opens again the Lynn Valley Lions are ready to bring the beloved Lynn Valley Days community festival back.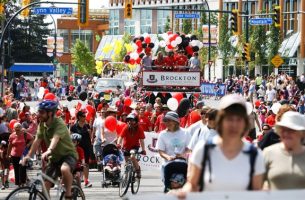 "We are excited," said Tania Newman, LV Lions secretary and co-producer of Lynn Valley Days. "We are seeing a lot of interest in the parade and exhibitors – it seems like people are keen to come back."
Throughout its more than century of history, LV Days has taken place in just about every month from May to September, and this year the club has moved the event to July. 
"This is 100 percent a weather decision," said Newman. "July might present some challenges with people on summer vacation but the weather hasn't been the best in May or June. I can remember my first year – it was miserable, torrential rain."
---
---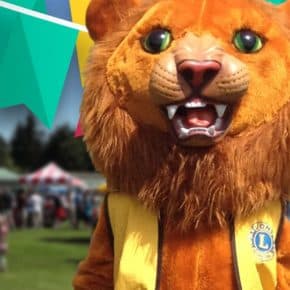 With the planning process given the green light, LV Days will be much the same as previous years with special care given to covid-safety. 
"We are an open-air event, and we hope people take as much space as they need to enjoy the event. We have changed the layout a bit and are thinking about how to best manage lines," she said. "Our discussions with the District of North Vancouver have us asking that parade participants don't hand anything out."
Besides the goal of limiting contacts, the move is also to reduce the environmental footprint of the event. 
The event of the season
The classic festival that residents have come to love with rides and attractions, fair food, the community stage and exhibitors is ready to hit the field again.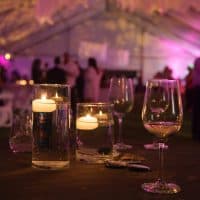 "We have some new ideas for food service," said Newman. "And for the first time, we will have Lynn Valley wood carver [Ben Hemara] creating a piece on site."
Also returning is the Friday night Gala. 
"We have a great party band – Side One – that will get the tent jumping. We are bringing in some of the carnival fun that is part of the main festival. Never before have we had the candy floss at the gala and this year we will have an adult snow cone."
The night will focus on friends, food and fun with so many people ready to enjoy Lynn Valley. 
"People are looking to celebrate."
---
50 years of Lynn Valley community work
---
The Lions are also using Lynn Valley Days to celebrate their more than 50 years of community work.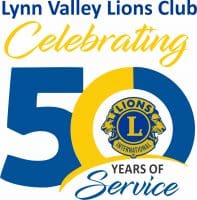 "What I am most proud of is the Lions' ability to react," said Newman. "Just days before 2018 Lynn Valley Days we had the tragic Mountain Village Garden Apartment fire where two people died. We saw the community come together and we were able to act as a collection place for donations. Ever since then, the [Lynn Valley] Lions have had a community emergency fund and the Lynn Valley community donates throughout the year.
"We are able to get people what they need. We are independent and mobilize quickly. We don't have to deal with the red tape of the government or some related organizations. We have grass-root connections and we are transparent."
Most recently they lept into action partnering with Fraser Valley charities to support flood victims and dedicating a portion of the Christmas tree funds to directly benefit more than 16 families who were flooded out of their homes.
Unlike many volunteer organizations that collapsed during the pandemic, the LV Lions grew. And unlike many other chapters, many of the new members are young – diversifying the skills of the group, said Newman.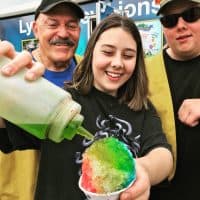 "We do have a lot of fun but we are a humanitarian organization," said Newman. "The international Lions' slogan fits: 'Where there is a need, there is a lion.'"
While the group grows, with such a long pause on Lynn Valley Days, it will be many members' first time participating on the organizing side. 
"The people here are amazing, this is going to be a good festival – it's going to be a lot of fun."
To register as an exhibitor or parade participant or to purchase gala tickets visit lvlions.com. Get ready to enjoy Lynn Valley Days on July 15 and 16th, 2022.