From the garden of Lynn O'Malley:
Well, I'm very glad I planted my Project Sunflower seeds out in mid-May, because ever since then – between Lynn Valley Days and end-of-term festivities and grad and visitors – there has certainly been no chance for much meaningful gardening.
Fortunately, Mother Nature has been doing all the work, and most of my seeds have turned into fine young plants, many of them now over a foot tall. I need to thin out the ones in the garden bed; although sunflowers don't prefer to be moved, I am hoping some will transplant into neighbours' gardens.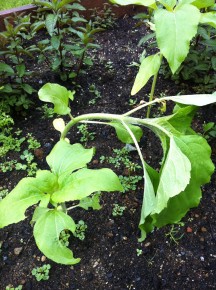 I have staked some of them – this morning's pouring rain had many of them drooping over like they were carrying the weight of the world on their shoulders. Others seemed to be managing the elements well.
Tara Findlay of the Lynn Valley Garden Club reminded me of another way of boosting sunflowers, from the inside-out. Once they hit a foot tall, it's a good time to give them a hit of borax (which you can find in the cleaning aisle of most supermarkets).
Not much is needed – boron is a naturally occurring element that is in fact toxic to most plants. Used appropriately, though, it's been shown to increase sunflower seed production and bloom size by up to 20 per cent!
West Coast Seeds suggests that when your plants are about 30 cm (12″) tall, dissolve 5 ml (1 tsp) of borax in 350 ml (12 fl oz) of water and spread the solution over 5m (15′) of row. Be careful not to over-apply it. 
If you miss the plants at the 30-cm mark, you can also apply mid summer.  BC Living says "The boron will help the sunflowers hold their heads high, even through summer winds…. Prior to blooms opening, when buds are just halfway developed, give your sunflowers a borax boost by supplying an early-morning watering of 4 litres (1 gallon) of water mixed with 2.5 mL (1⁄2 tsp.) of borax. Repeat a month later."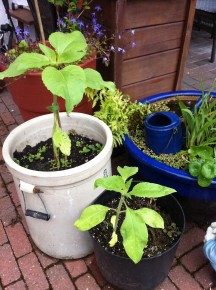 You'll have lots of leftover Borax in your box, so you might want to join the many people who use Borax in recipes for more eco-friendly cleaners and laundry soaps (while it is certainly better than most traditional products, it is also not as benign as vinegar, so use with care). Better yet, before you buy any, check around – no doubt there is some friend or neighbour around who already has some and won't mind giving you a spoonful!
So there you have it – your next Project Sunflower-related task, one that will apparently pay off a month or two from now. Tara was sorry she forgot to do it last year – she says her Velvet Queen sunflowers grew as tall as the house, but blew over in the strong winds!
How is your sunflower patch coming along? I would be happy to know – email me at [email protected] with your news!