There is a new option for notary services in our neighbourhood and we are so proud to welcome Kay Manabe Senju Notary as a new officemate. Manabe is expanding her business to serve Lynn Valley with her typical knowledge and warmth.
---
---
With the departure of Lynn Valley's previous notary, Manabe knew she wanted to help. Building on her Lonsdale practice, the new office in Lynn Valley will continue to offer her notary services including wills, real estate, and general affidavits and declarations.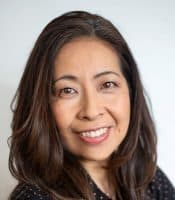 "I want to serve people with compassion," she said. "As I became a single mom, I was using the legal system and I know how hard it is. I knew I wanted to help people. As a notary, I can be patient and compassionate."
Knowing that sometimes notary services are needed during some particularly stressful and trying times, Manabe will also visit clients in their homes, care homes or hospitals. 
"I need to see my clients to make sure they are being taken care of and have the capacity for these decisions, that can be done with Zoom or in-person where they are if they can't come to my office," she said. "A lot of seniors can't leave their homes – I can. I don't mind. I want to help and I have worked with the social workers at Lions Gate Hospital."
---
Protecting yourself, caring for others
---
Manabe shared that only 50 percent of British Columbians have wills.
"I believe it is important for everyone, whether they have assets or not, to have a will and the other documents you need," she said. "It's a way of taking care of the people left behind. The fees and process to take care of a death without a will can be overwhelming in a tough time."
In addition to a will, she recommends a power of attorney, and a representation agreement, and an advanced directive (the latter two take care of your needs should you become incapacitated). 
"No one likes the idea of creating a will at the best of times but it is easier when you are happy and healthy," she said. "The process can simply start with some forms to fill out which helps me understand your needs. From there we can sit together and go through it. People don't like to talk about death, don't worry I will do the talking and guide you through."
---
Choosing your legal professional
---
Notary publics can be a choice for transactional legal matters that are non-contentious such as personal planning, real estate, declarations and affidavits, travel documents for minors and many more.
"On the matters we specialize in, we have the same training as lawyers," she said. "Like lawyers, there are high-priced notaries and low-price notaries. It all depends. It is important you find a notary you are comfortable with and who is transparent about their fees."
She adds that when choosing any professional service, it is important to check that the notary is in good standing with the Society of Notaries Public of BC. This will ensure the notary is covered by insurance and has the education needed to perform their duties. 
"This is an important relationship. You need to trust your notary and feel comfortable asking questions," said Manabe. "I want to take the time so you are not rushing decisions. 
"If I can't help you, I will use my network – that is Senju means – a thousand hands. I will refer you to professionals: lawyers, accountants, mortgage brokers that I trust."
Senju Notary can be found at the LynnValleyLife offices at 3171 Mountain Hwy on Tuesdays and Friday or contacted by phone: 604-818-7710.