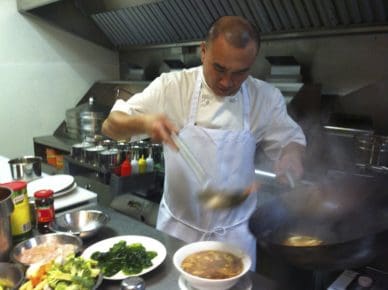 Kevin Li has lived in many places – northern China, Richmond, Burnaby and finally North Vancouver – but wherever he is, he's always at home in the kitchen.
Kevin and his wife Cindy Feng are the proud owners of the Wonderful Szechuan Restaurant, which has opened its door in the Ross Road Plaza after two months of renovation. Formerly a Greek restaurant, the premises now glow with a warm Asian ambience, with mocha-coloured walls and gleaming wooden floors.
They bring to the Wonderful Szechuan Restaurant two decades of experience – Kevin was a chef for 10 years in China, and the couple subsequently owned a restaurant in North Vancouver – and LynnValleyLife was fortunate enough to get a sneak preview of their labours the day before they started serving customers. (While the restaurant is open now, a grand opening is planned for October 2.)
We had the chance not only to tour the sparkling premises, but to meet the couple's children, William and Vicky, and learn a bit about the family's goals for the restaurant.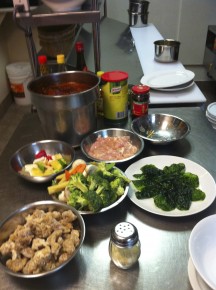 Cindy explained that Szechuan cuisine is a branch of "Chinese food" that emerged from northern China. Cantonese food, which is served by most North Vancouver Chinese food restaurants, hails from the south. While many of the dishes are the same, Szechuan cooks are known for kicking up many of their recipes with the addition of spices.
However, that doesn't mean that all the dishes are hot and spicy – there's a full range, and you'll know which is which by the little chili icons next to the menu items. The couple knows that many people, especially children, prefer milder seasoning, so there is something for everyone in the family.
We were able to watch Chef Li at work in the kitchen, and witness the skilful transformation of fresh meat and vegetables into a range of steaming, colourful – and perfectly seasoned – dishes.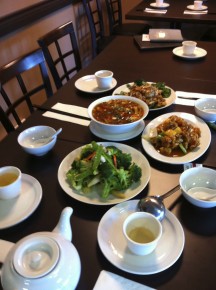 We sampled their boneless sweet-and-sour pork, shrimp fried rice, hot and sour soup, pepper chicken on dry spinach, and sauteed vegetables. Each was beautifully presented, fresh-tasting and delicious, and quite an improvement from the eating-out-of-tinfoil-containers Chinese food we usually experience at home.
We are happy to recommend this new establishment to our Lynn Valley neighbours, and wish Kevin and Cindy every success in a location that hasn't always proved an easy one for restaurateurs.
They invite their guests to dine in for a nice evening out, or take advantage of free delivery and order from the take-out menu for a relaxing evening at home.  Prices are comparable with other local Chinese food restaurants (dinner for four = $47.95), and there are a wide selection of daily $7.95 lunch specials. To learn more about Kevin and Cindy, read their merchant profile on our site.
Hours are 11:30 a.m. to 9:30 p.m., seven days a week, at 1238 Ross Rd., North Vancouver. Call 604-988-9927 for information and delivery.