Artists often say art isn't what they do, it's who they are. When the Covid-19 pandemic began in March 2020 there were no more gigs for musicians like Paul Gemino. A passion to play began on a rainy front porch one night at 7pm, soon a neighbourhood was coming together through music and the Allan Road Band was born.
---
---
The shocking shutdown of life in March 2020 had local musician Paul Gemino lost. 
"Suddenly there was nothing," he said. "Psychologically it was like there was a black cloud all around me. I couldn't be all of me. It was like I was lonely or lost."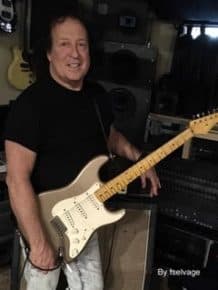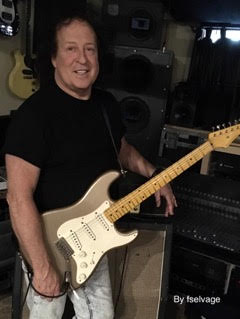 The sounds of pots and pans brought Gemino out of his house one night. As a musician and composer with more than 35 years of professional experience – and encouraged by wife Faye Slevage – Gemino thought he could lend his guitar to the ragtag orchestra acknowledging front-line workers and healthcare personnel. 
"I played three songs that first night in the pouring rain on my covered porch," said Gemino. "One guy came by. The second night there were three. Then a few more and more. But that first night, in the pouring rain, that first guy began [to clap], and it might as well have been a crowd of 10,000."
Gemino's thoughts echo countless other live performers who also lost not only their livelihoods but also the outlet for their passions. 
"I have been playing music since forever," he said. "It's in my DNA to be a musician."
After the solo success of the first few nights, Gemino gave a call to a fellow musician and then two. Gaining momentum, another friend joined and another until the six-piece Allan Road Band was formed. 
"Eventually we did 40 days in a row – never repeating a song," he said. "It was an organic sort of growing. We started to get people noticing, not just here but all over the world. My wife would put her cellphone up on a stand and record it and we would share it. Then I got a message from London, England asking me to play Jimi Hendrix's Fire at an upcoming show. It's a bit of a crazy song – but I thought 'Yes.' This whole thing has been about saying 'yes' to what could be."
The current Allan Road Band has a lot of others saying yes too. Gemino is joined by Bill Schatz, Brian Carballo, Peter Lepine, Les Toth and Ron Froehlich. His wife Faye Savage picks up the other jobs like sound technician, PR and photographer.
---
Normalize the neighbourhood
---
What the Allan Road Band didn't know was that their passion was also becoming a weekly beacon of light and hope in Lynn Valley. 
"We were living in strange times," said Colleen Eschner, who lives in Gemino's neighbourhood. "It was one hour to look forward to each week – and I really looked forward to it. It was a chance to see people you care about, to see neighbours, to experience something as a community and to do something that was safe – and normal."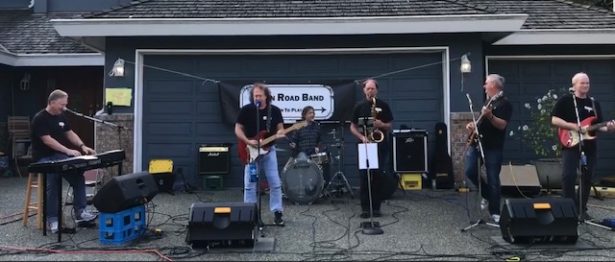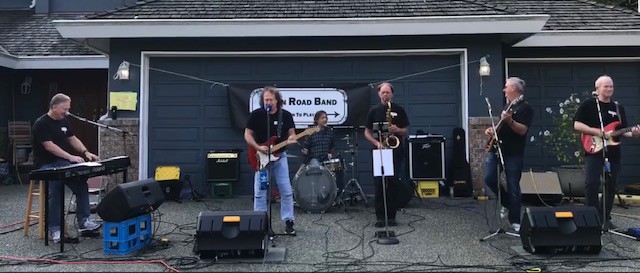 As the weeks went on word of mouth spread and the sounds of music drew people to the unadvertised events. It was a chance for people to be outside and together but also socially distant, said Gemino.
"It was invigorating to see people talking and connecting – checking in, shuffling over to give space," he said. "I didn't know we had two paramedics on the street. Here I was thanking essential workers and they were out doing the work." 
The weekly concerts were time to put aside the challenging time and escape for a little while.
"I had covid – getting quite sick," said Eschner. "It was almost a shock to sit quietly and listen to the music again. It was hope. It was respite. It was so normal but everything was different. We were looking at the world through a different lens."
One of Gemino's joys was getting requests from patients in hospital. 
"I had one rule – no downers. Someone fighting for their health needs to hear energy or happy."
Come together
As the summer and year went on the audience grew and was always appreciative. 
"I had a family move in next door and two days later I am pulling out gear and the 'dad' is dumbfounded. It's not every day you move next door to a rock band," laughed Gemino. "The 'mom' was about eight months pregnant and they came out with their 18-month-old that day and have been great supporters."
There were other stand out memories like the connection the band fostered with DNV Firefighters during the Arglye grad parade, the 88-year-old neighbour from down the block who called her kids and grandkids and had a family picnic, and little three-year-old Nora who brings her ukelele and joins the band. That little maestro led to an entire kids concert with more than 15 ukeleles.
"Mabye three could play – and it was noise but it was fun noise," said Gemino
The passion and joy of the band is palpable on show days, said Eschner. It draws the community out of their homes.
"When you go and sing along for an hour or just sit with a friend, it was so healing," she said. "It holds on to you and echoes around in your head and body and stays with you."
---
---
As the regulations change the band moves forward – not onward. Gemino has been able to return to his other job, a taekwondo instructor but live music gigs are limited and not the same as before with restrictions like no dancing. As rough as that is for the Allan Road Band members' other musical pursuits, it does mean they will be returning to the driveway as weather allows.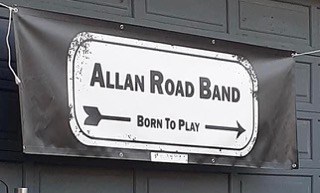 "There is no question we will keep doing it. It's all passion – and so much fun," said Gemino. 
There is little doubt Eschner will be listening. 
"I so look forward to it and I so appreciate the time and effort of the entire band." 
To learn more about the Allan Road Band check out their Facebook page. They hope to have concert number 75 soon. More on Paul Gemino can be found on Facebook and this page.