When he couldn't quite put his thoughts into words, turning to art helped Bjorn Thor be heard. The Lynn Valley Elementary Grade 7 student is the winner of the Lions Gate Hospital Foundation's annual greeting card contest.
---
---
A piece from a young local artist is doing double the good on the North Shore. Thor's piece of original art had a first life as a line drawing design for a colouring contest for Lynn Valley Elementary students. Now, full of colour, the piece is gracing fundraising greeting cards and will soon be on tables and mantels across Canada and beyond.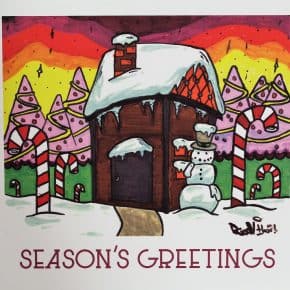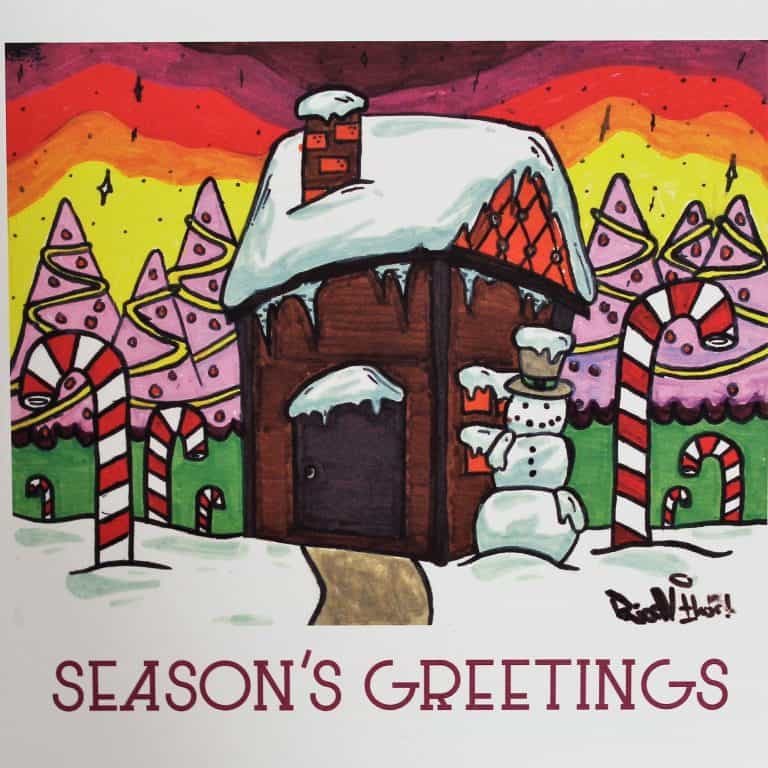 "It's warm, it's whimsical and it makes you smile," said Yolanda Brooks, communications manager. "Not only did Bjorn choose bright and bold colours, his illustration is full of small, subtle details that show that he is talented beyond his years. Everybody at the foundation loves the design and we're sure the community will too."
"It's amazing," said Thor. "Nothing has ever happened to me like this. I am really happy."
The bold design chosen by the Lions Gate Hospital Foundation features a sunset, snowman and gingerbread house. Those details were noticed by the selection committee at LGHF.
The joyful image was designed to inspire other kids to get creative, said Thor.
"Since it was originally going to be for a colouring contest I wanted it to be really fun and make them want to draw," he said.
---
---
Thor says art has been a part of his life since he could hold a pencil.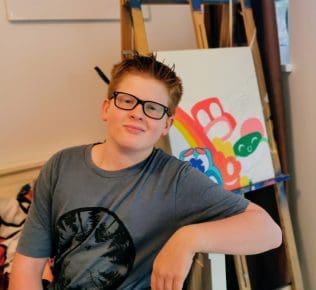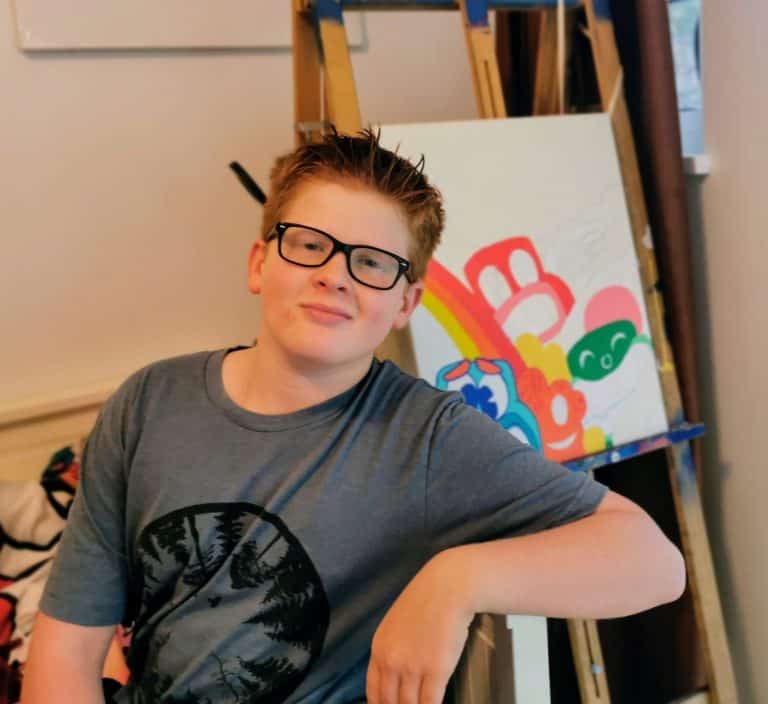 "I wasn't very good at saying stuff when I was little, so I would draw it out," he said. "So basically I have been drawing my whole life."
Thor's art opened an important communication avenue that gave him an early voice, said mom Ainsley. 
"He was a bit hard to understand, and I would say 'Draw it for me.' and I would get it right away," she said. "Bjorn could draw better at two than I can at 40-something."
Today, Thor is falling in the artistic footsteps of his father and grandfather who both attended Emily Carr University of Art and Design. 
"It makes me really happy while I am doing it. It's something that I can always get better at," said Thor. "I am not really a sports person, so for me art is the best."
There are benefits for the family too.
"I don't have to stand in the rain on Saturday afternoons," laughed Ainsley. "But I do have to buy some expensive pens – which we are happy to do – and visit some sketchy places to check out the latest graffiti."
---
Inspiration IRL and on Instagram
---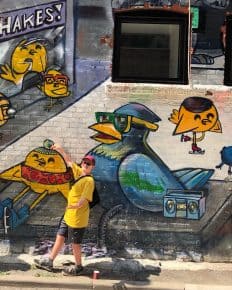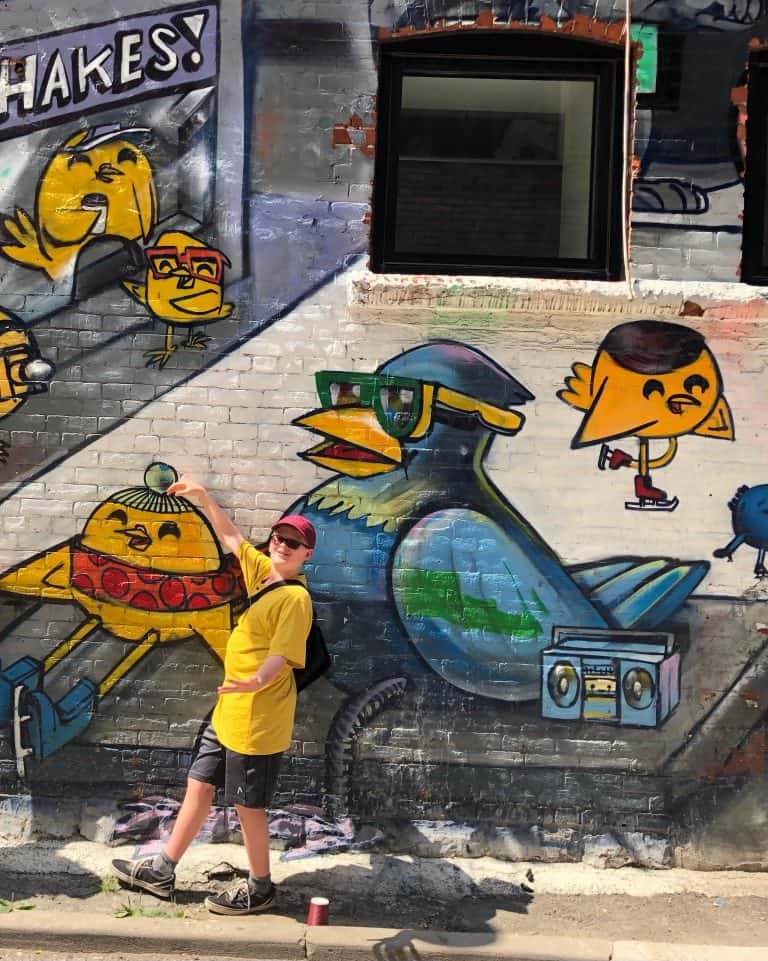 Inspiration from other artists' social media accounts, like Germany's Smoe Nova and Toronto's Uber5000, motivated Thor to practice his skills enough to start his own Instagram. In a push to be like the artists he admired, Thor began to focus on his art improving and evolving his style. On his feed, you can see the transition from an early ink-and-paper style to digital art.
"My goal is to paint large pieces of graffiti on legal walls," he said. "An Ipad or paper is pretty small. I wish I can do murals someday."
The family is supportive of Thor's passion, embarking on local graffiti walks and visiting prominent skateparks and graffiti alleys during a cross-country road trip last summer. A highlight was being able to see some of Uber5000's work in person.
"If a kid loved science, the family would visit science centres," said Ainsley. "For him, it's graffiti. We are so proud and I love that he is doing what he loves."
The LGHF greeting cards (12 for $15) are available at their foundation's office, 231 East 15th Street, and will soon be on the shelves of local Save-On-Foods. One hundred percent of the proceeds will go towards the purchase of a second MRI machine at LGH. To check out Bjorn Thor's art follow him on Instagram or check out his website.