We wanted to get to know who in our neighbourhood was stepping up and putting themselves out there to help govern our city. We recognize some of the names and definitely want to get to know those we don't.
We reached out to all the councillor candidates who live in Lynn Valley and submitted their contact details on the District of North Vancouver website. We passed on four questions we thought would be broad enough to showcase their personality and their positions, but would also focus their attention on Lynn Valley and the issues that matter here. The candidates had the option to respond to the questions they chose and how they wanted. Additional responses can be found here. And don't forget to VOTE October 20.
---
Why do you want to be a District of North Vancouver councillor?
---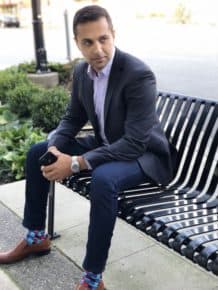 As a lifelong resident, who's lived in four different neighbourhoods in the District; it is home. It's time that the DNV finds solutions to the challenges of housing, transportation and much more. People here are frustrated with the career politicians that have been in council for over a decade and want to see their Councillors offer solutions. I'm ready to offer the residents of the DNV my expertise, energy and dedication as their Councillor to move forward.  I expect to be held to account by my community and to deliver results that are long overdue.
---
Why should the public give you their vote?
---
I am a dedicated to my community and the environment and volunteer my time to improve them both.  I helped run my family business here in Lynn Valley and currently work for a membership-based organization. I earned my Bachelor of Commerce specializing in Transportation & Logistics and Information Systems at UBC's Sauder School of Business. After working for five years, I returned to school and earned my Master's in Business Administration from the Smith School of Business at Queen's University. This well rounded experience has built strong collaboration skills to work with others with diverse perspectives will help to get things done.
---
What issues do you want to focus on?
---
When knocking on doors and speaking to fellow residents in Lynn Valley, the main issues we face are transportation, housing and building better communities.
All three of these issues impact each other.
Having the option for more people to live where they work with more affordable housing, builds better communities. People can then spend more time being with family and friends.  Being able to live where you work reduces traffic by allowing people to commute in a different way, spend time in our great neighbourhood and be active, while contributing to local businesses and lessen our impact to the environment.  North Vancouver has added more jobs than working aged residents; this directly adds to the congestion we face because people are commuting here!
This is one example of how these issues are connected, and one of the solutions I am going to bring forward as a member of Council for the DNV.
---
What are your priorities for Lynn Valley?
---
My priorities for our community are to:
Build affordable housing for families, seniors and people working here by looking to fast track rental housing permits, including basement suites
Accelerate the Lynn Valley B-Line bus expansion to downtown (via Lonsdale) to help ease congestion and give residents another commuting option
Optimize roads for better traffic flow and to provide safer routes to schools and amenities for people to walk, bike and roll.