From the desk of Peggy Trendell-Jensen, editor:
Oftentimes the convenience of online shopping translates to an unfortunate flagging of support for the bricks-and-mortar shops that are so much the heart of a healthy community. Fortunately, Save-on-Food's new online shopping service doesn't put us in that moral dilemma – we can support this Lynn Valley Day Diamond Sponsor while still kicking back with our laptop on the couch!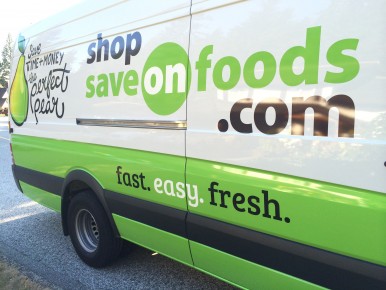 I did just that in the last week of August, happy to outsource my aimless wandering of the grocery store aisles. I didn't feel too decadent, though, as Save-On offers the initial online shopping experience at no cost. Even subsequent orders, however, are almost guilt-free given the reasonable price of $4.95 for in-store pick up at Park and Tilford, or $7.95 for delivery right to your door (with a $40 minimum grocery order). When I factor in my time, the gas required to charge up and down Lynn Valley hills, and the reduced temptation to impulse buy, I figure I'm saving money.
Besides the fact that grocery shopping is one of my least-favourite occupations, another great benefit of online shopping is the corresponding requirement to sit down and plan your meals for the week ahead (unless, of course, you want to go online by 10 p.m. each and every night to order your food for the next day – in which case, the cost really would add up!)
There's no getting around it, life is WAY better when you meal-plan. You save money, you make a point of using up the food in the fridge, you tend to cook more healthfully and creatively, and your upfront time investment is well paid back by all the hours you DON'T have to spend throughout the week, wondering what the heck to put on the table that night. With a plan on hand, it's also much easier to delegate cooking tasks to others in the household (I told you meal planning makes life better!)
Given all these glowing recommendations, it is a strange but true fact that I had long fallen out of the meal-planning habit (funny how it's easier to fall out of good habits than bad ones!) So it was very satisfying to pull out some of my lately neglected cookbooks, print off a blank meal plan/shopping list template, tune into CBC radio's Sunday afternoon show, and while away a pleasant hour or two at the kitchen table.
By the end of that time, I had figured out all the meals for the week to come (minus the  weekend nights,  optimistically leaving room for dinner invitations and other adventures) and compiled my shopping list, checking the cupboards to make sure I wasn't absent-mindedly ordering our second (or third) bottle of Worcestershire sauce or packet of cumin. (How many times do you throw something in the cart "just in case," only to find out once you get home that it's completely redundant?)
Having flirted with online grocery shopping when it was first introduced by another chain many years ago, I was delighted to log into the Save-On site and witness the vast improvement in user interface since then. Once you create an account, to which you can link your Save-On-More card, it is fast and easy to populate your shopping list.
The search function quickly brings up a variety of items matching your query, photos included. The weekly specials are readily apparent (and are worth checking before you launch into your meal planning). For each item in your cart, you are able to add a custom note for your personal shopper, indicating such things as your preferred degree of banana ripeness, etc. In my case, I was quite happy to leave all the executive decisions up to my invisible angel/shopper, believing that their grocery expertise was likely far greater than mine. You can permit or disallow substitutions in case of unexpectedly unavailable products; if a product is indeed substituted, you can return it to the delivery driver on your doorstep for immediate store credit if you're not satisfied with it.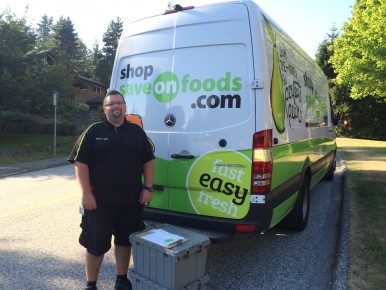 If you choose to have the order delivered to your home, as I did, two-hour windows of time may be booked between 8 a.m. and 6 p.m. You're expected to be home to accept your groceries, and your driver generally calls in advance to make sure you're not running late. The bins are packed in Save-On's shiny new, refrigerated trucks and their contents delivered to your door or kitchen countertop – in my case by the super-friendly Ryan.
All the items I ordered were present and accounted for, and in fine condition. Not faced with aisles of ice cream and junk food, my online impulse buying had been limited to on-sale Vitamin D tablets (fun, hey?!) so it definitely proved a healthier and cheaper venture, though perhaps not as gratifying for the teens in the house.
It was a lovely treat to avoid parking lots and grocery line-ups, and to have my efforts extend only to putting away the groceries. The meal plan was a guiding force that brought a welcome sense of domestic serenity to the week, and it was only because a family wedding intervened the next weekend that I didn't immediately repeat the exercise. It's on my to-do list for this Sunday, though – so if you have a favourite recipe to share, please send it my way!