In this Cascadian society, often referred to as "spiritual, but not religious," people like to say they can worship a higher power from a forest trail more readily than they can from a church pew. This Saturday, they'll have the chance to join others doing the same.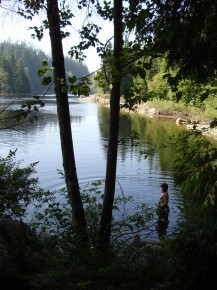 Rev. Laurel Dykstra, a recently ordained curate serving the North Vancouver Anglican Deanery, will be leading an outdoor hike and worship service in Rice Lake on Saturday, May 3, from 5 to 7 p.m. Laurel says the event will have the elements of a simple eucharist service, performed in a family-friendly, natural setting in which walking the trail will include times for prayer and reflection on the links between environmental awareness and spirituality.
Laurel has enjoyed "taking church outdoors" in more ways than one over the past months; she has led field trips to visit a refugee in sanctuary, the mosque in the former St. Richard's church in Norgate, and residents of the Downtown Eastside, all on the theme of discovering "who is my neighbour?"
Everyone is welcome to come along for the Rice Lake "Disciples in the Watershed" event, which will include walking the three-kilometre, gentle trail around the lake. Participants are asked to gather at the green-roofed pavilion outside the Ranger Station at 5 p.m., dressed for the weather.
For more information, please contact Laurel at 

[email protected]

.