If you're tired of reading bad news in the headlines, you'll love our third annual Good Neighbour Award!
Each year we put out the call for nominations, and every year you send us wonderful stories of the people around you who help the world in ways large and small. We hear about casserole-makers and cookie-bakers; charity organizers and cheerful helpers; faithful housesitters, handyman husbands, animal lovers and more. There is, of course, no way to choose from amongst all these marvellous folks to pick just ONE Good Neighbour of the Year, so we draw one name to represent ALL the good neighbours of Lynn Valley.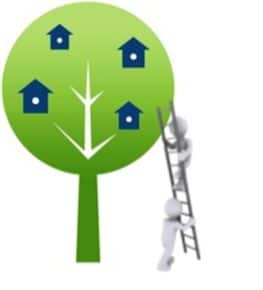 Last year, we were proud to present the LynnValleyLife Good Neighbour plaque and a basket of local prizes to Gord Trousdell, who inspired many people on his street with his kindness to all. The year previous, our Good Neighbour award went to Rosemary Postlethwaite of Lynn Valley United Church. Now who will be the LynnValleyLife Good Neighbour for 2014? We're looking forward to finding out!
Please send us your story about the person in our community who you would love to see recognized for their good-heartedness (it doesn't have to be one of your next-door neighbours, but it does have to be a Lynn Valley resident!) In the weeks before Christmas, we will share our favourite stories on the website and draw from amongst them the recipient of the 2014 Good Neighbour Award.
While quantities last, everyone who takes the time to nominate a good citizen of Lynn Valley will receive a copy of Wintertide, a collection of stories, memories, recipes and photos celebrating Christmas on the North Shore. It makes for lovely holiday reading – and a great gift!
As always the winner will receive a special plaque and a gift basket of local treats. We always find something to reward the person who nominated them, too!
Please send your story (just a paragraph or two will do, doesn't have to be fancy) to [email protected]. (Don't wait too long, either – we hate to say it, but Christmas will be here before you know it!) All entries are due by Friday, December 19. Please include your name and contact information, as well as that of the person you are nominating.
The announcement will be made at a community event in the weeks just preceding Christmas. We look forward to reading your stories over the weeks to come, and learning more about our neighbourhood angels-in-action!