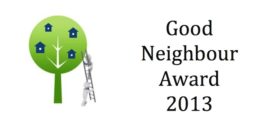 Do you know someone in Lynn Valley who would make a good candidate for this year's Good Neighbour Award? Please send us your story about the person in our community who has made our world a better place, in ways large or small (whether they live next door to you or not!) Over the upcoming season of peace and goodwill, we will share our favourites on the website and draw from amongst them the recipient of the 2013 Good Neighbour Award and prize package. Details are here; deadline for entry is Wednesday, December 18. We look forward to hearing from you!
Principal says Lions deserve recognition for support
I would like to nominate the Lynn Valley Lions for their considerable donations of time and support to our school….  they really go the extra mile to support community events and fundraising for our students.
Thank you to each and every Lynn Valley Lion!
– submitted by Deborah Wanner, Lynn Valley Elementary School principal