A childhood dream was realized when a pandemic move brought CBC's Johanna Wagstaffe to Lynn Valley. The well-known face of Canadian weather has been showing off our neighbourhood ever since. 
---
---
Over the last year and a half, Lynn Valley has been playing a background role in some CBC broadcasts, as meteorologist and science host Johanna Wagstaffe broadcasts for the network from her home.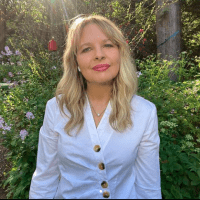 "I was so privileged to move here during the pandemic," she said between live interviews for CBC about September's Hurricane Fiona. "It was finding solace and falling in love with these trails when that was all we had. I feel lucky that I get to live here and share that with our audience."
It had been a long time coming for Wagstaffe who first explored the North Shore as a girl. 
"I grew up in Ontario but both my parents immigrated to Canada in the 70s. My extended family on my dad's side lived in North Vancouver," she said. "As I kid we used to spend summers exploring the Lynn Valley forests with my grandmother – I have so many great memories of her teaching me about nature."
With a growing family of her own and her parents on this side of the water, 10 years after moving to Vancouver, Wagstaffe has settled in Lynn Valley.  
"We realized it was time to get closer to nature. It was my hope that I could end up in Lynn Valley and I am so happy I did. This is our forever home." 
---
---
Now that she's a resident, Wagstaffe and her expertise confirmed what many locals think: Lynn Valley has its own distinct weather. 
"Lynn Valley is unique," she said. "We often get these systems coming in from the southwest and they sort of run into our mountains – Grouse and Seymour. They climb up the ridge on the southwest side and sort of get rung out. These little cells get stuck over Lynn Valley as they move from the southwest to the northeast. I love watching them on the radar."
It doesn't take too many clouds to lead to more rain. 
"We do get more rain but we also get more interesting skies," she added. "I love watching the snowline – often we are the snowline – and I think we are going to see that again this year as we head into another La Niña. The difference between Lonsdale and Lynn Valley is huge. When I am in [Vancouver] I love looking over and seeing those little clouds that look like mustaches on our mountains. It might be a bit wetter but in the grand scheme of things it is more interesting and that is what makes it so much greener too." 
No bad weather, only bad gear
With the local environment as a big lure to our community, Wagstaffe and her family make sure they enjoy it.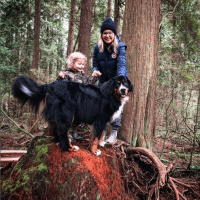 "We are out every single day rain or shine. I have always been someone who isn't afraid to go out in it – and moving from Ontario to BC – British Columbians are better at gearing up and getting out," she said. 
Those that follow Wagstaffe on Instagram will frequently see her and her son Wesley out in local parks sharing regional weather updates from a Lynn Valley perspective.  
"I have a dog – Rodney – he has so many best friends now in Lynn Valley so he gets me out and bringing my son along," she said. "It has been so exciting relearning what I love about weather through my son's eyes. He hasn't lost interest yet but I am sure he will find me annoying but for now, it's so wonderful."
The get-out-there attitude has made Wagstaffe's job even more rewarding  
"I know that being out for every story I tell means a lot to people – the floods, the heat dome. Last Christmas, [CBC] had our open house again and I heard from people about the impact of experiencing the weather with them."
---
---
Field reporting weather stories has prompted Wagstaffe to add author to her resume (which also includes podcaster). Seeing firsthand the impacts of climate change inspired her to connect with children. Her third book – Little Pine Cone – was published this summer.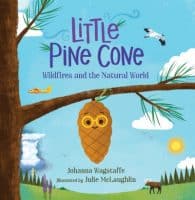 "I knew after the back-to-back wildfire seasons of 2016-2017 that this was the next topic. I saw climate anxiety coming out in the students I was talking to – in a way I never had before," she said. "I wanted to find a way to connect with them. Anthropomorphizing a pine cone is how I did it after it worked so well with a cloud in my earlier book. There are natural processes, humans have disrupted some but these extreme weather events aren't all 'bad.' Climate change is enhancing them but there are good things about these cycles as well."
Wagstaffe says her hope is to give agency to youth. 
"The part of my job I love the most is getting to talk to children. My first two books discussing climate change were written before I had my son, and after having him I have realized how important it is to empower them with knowledge. I interact with kids of all different ages – all the way up through to highschool – and climate anxiety is real and it is impacting young people in ways I never experienced." 
She doesn't want British Columbians to feel lost or overwhelmed when considering our climate future. 
"I have realized over the past few years that climate change is no longer theoretical. It's impacting Canadians and it's impacting British Columbians. My neighbours and my community are affected," she said.  
Her latest radio special offers hope. Climate Changers aired in September. 
"It's telling the stories of individuals who are combating climate change in their own way," said Wagstaffe. "How small actions hopefully have big ripple effects. I am always looking at stories through the data and the numbers can seem scary. It is so reassuring to hear what people are doing on the ground now and how big a difference it is making."
Her next project will follow a similar theme – with a local tie-in. 
"I can't say too much but there is another exciting  [CBC TV] project hopefully launching in the fall talking about climate change and climate change solutions – I am really excited and you can expect Lynn Valley to be featured."
Community connection has proven valuable to Wagstaffe and made the science she is so passionate about more accessible. By inviting viewers and the public into her neighbourhood, she hopes it helps form a solid foundation to help make a better world. 
"By opening up more and sharing the community I live in shows I am affected and also sharing the joy I get being here. As a meteorologist and someone who is so interested in the interplay between our relationship with nature and nature-based solutions, I like sharing that world and giving people ideas of how they can get connected to that world, no matter where they live."
Locally, Wagstaffe's latest books are available at Kidsbooks and the NVDPL.
Images courtesy of Johanna Wagstaffe and Orca Book Publishers.