Two organizations have teamed up to make Lynn Valley a little bit stronger. The North Vancouver District Public Library and St. Clement's Anglican Church have launched Caring Community Kits to help build community.
---
Building on existing resilience
---
The congregation at St. Clement's has spent much of the last decade reflecting on its place within the community. Governments have picked up many social services that were once the church's role in the community and this has led the congregation to look for gaps it can fill to support and build the community, explained Rev. Peggy Trendell-Jensen, deacon.
"We can't take a great neighbourhood for granted," she said. "We saw after last March's [2021] tragedy the empathy, service and compassion present in Lynn Valley. We don't want that to erode, we want to nurture the need for a 'common good'."
With a church fund already in place to support efforts in the larger Lynn Valley community, Trendell-Jensen turned to the library for partnership.
"This is one of the most impactful and exciting collections we have ever developed at NVDPL," said Krista Scanlon, manager of collection services at NVDPL. 
---
---
The donation from St. Clement's has led to a new fund at the library, with the goal to foster a vibrant and thriving community. 
"We thought these funds that became the Caring Communities Fund would allow the librarians to purchase materials that support in any way the building of healthy families, healthy homes, and healthy neighbourhoods," said Trendell-Jensen.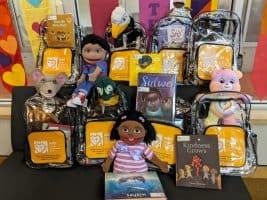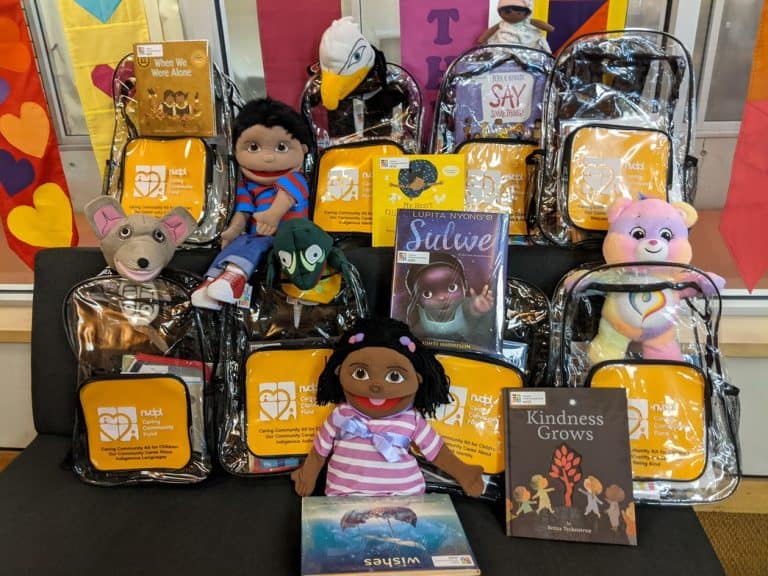 The backpack-sized kits are to promote learning, sharing and building understanding in the community. From books to puppets to games and more, each Caring Community Kit is filled with resources on topics that promote community building, strengthen resilience, and increase interpersonal understanding.
"The kits are designed to support individual learning and understanding for all ages, while developing a sense of shared connectedness," said Scanlon. "The hope is that they will broaden perspectives and create deeper appreciation for one another."
Trendell-Jensen is especially proud of the diversity of the kits – both in theme and in the variety of resources.
"A family may love books, so those are in there, but not all children engage with written and visual information, so having something like a puppet is a great way to have an impact."
The library echoes that idea.  These Caring Community Kits exemplify how the library supports learning and information sharing in a variety of ways—and in the ways that our community needs in this day and age, said Meghan Crowe communications and events coordinator for NVDPL.
"Libraries have always been about sharing resources and equitable access, but we're also about people, spaces, and connection. We offer books, films, digital resources—and we also offer puzzles, Dungeons and Dragons Starter Kits, Radon Detector Kits, and more."
---
---
With guidance from St. Clement's initial idea, the library staff dove into thoughtful discussions about what understanding is needed to foster the foundational values of North Vancouver.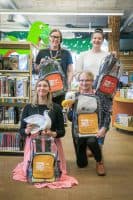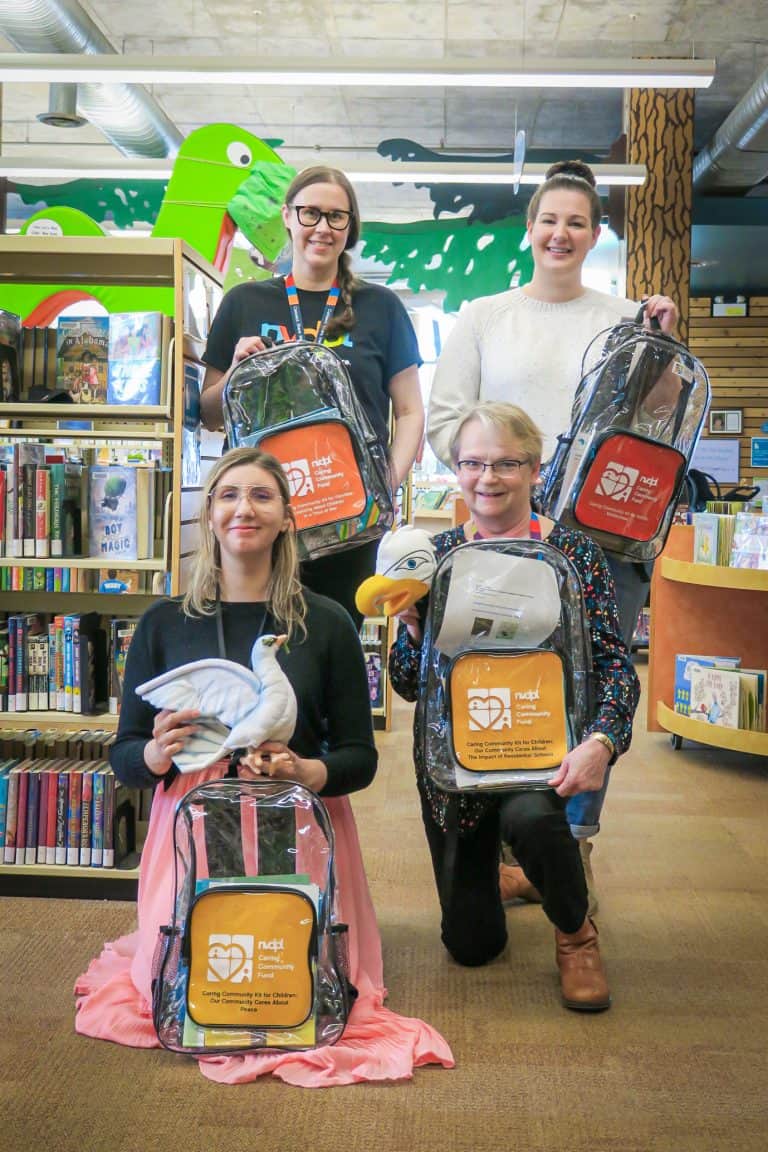 "Our staff are experts at curating relevant and meaningful collections. So in addition to the original proposal from St. Clement's, our staff really tapped into the topics that we know our community wants to learn about and what is relevant to community members," said Crowe. "For example, our community cares deeply about topics like anti-racism and reconciliation. We're seeing requests for information on these topics in other collection areas, and as we all continue our own personal growth journeys, topics like this were natural choices for some of the kits."
For Trendell-Jensen, the inclusion of a further resources card is an important piece.
"The resources guide helps families explore organizations and books on these topics beyond just the kit," she said. "The kits are fabulous – and not just geared to families or children. There are some for adults to cultivate community building – like conversation starters. This is an evolving project. I would love to see something like a kit on how to have difficult conversations to help people negotiate topics where there is disagreement but we need to all hear each other." 
Other topics geared toward adults are mindfulness, anti-racism and truth and reconciliation. 
Check it out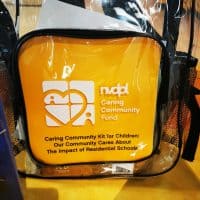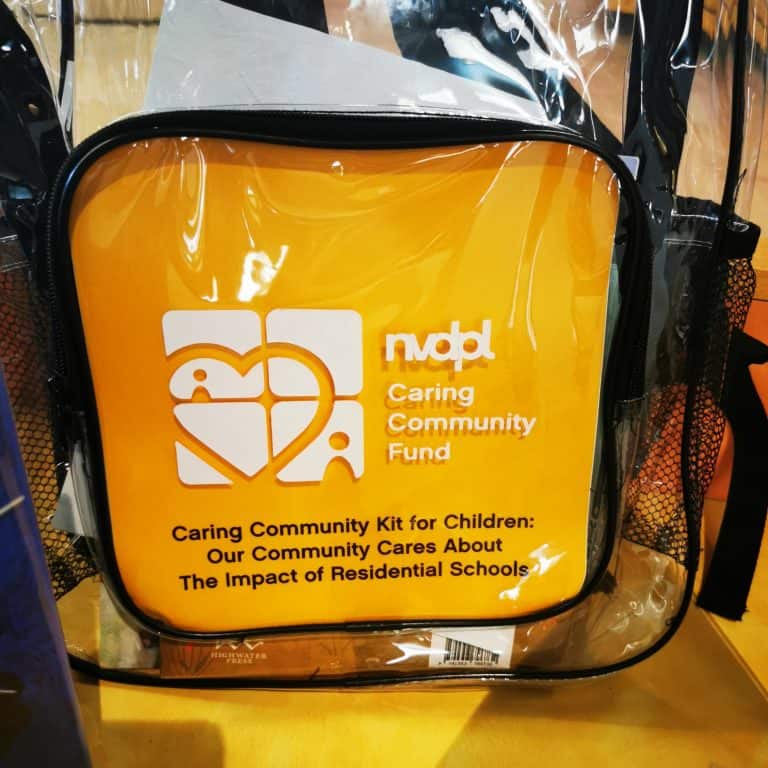 There are 15 Caring Communities Kits in circulation based out of the Lynn Valley branch. They can also be borrowed by any NVDPL patron, at any branch, said Crowe. They are also in the process of adding more kits with plans to display them at Parkgate and Capilano libraries as well.
"All you have to do is search "Caring Community Kit" in the catalogue to see all of the different kit titles. Patrons can place holds on their kit of choice for convenient pick-up at any NVDPL location."
With the Caring Communities Fund now established Trendell-Jensen hopes residents will think of it as a place to donate. 
"It is a way to have a very direct impact on the health and wellbeing of the neighbourhood. If you are looking to help out the community or remember someone, my hope is people will think of it and make a donation."