From zeppelin logging to secret whiskey caches, the tales and trails of North Shore mountains come alive in a new book from locals David and Harry Crerar and Bill Maurer. Highlights from The Glorious Mountains of  Vancouver's North Shore will be shared at the upcoming Culture Days Festival in Lynn Valley.
---
Ninth annual Culture Days September 28-30th
---
Culture Days is an opportunity for people of all ages and abilities to try something new, experience something totally different, discover creative spaces in the community and meet the artists that work there. North Vancouver Parks and Recreation have centred the events at seven different "Hubs" throughout the District and City of North Vancouver.
"North Shore Culture Days celebrates the vital role that arts and culture plays in creating vibrant and connected communities. We invite residents to participate, be inspired and have some fun." said Heather Turner, Director, North Vancouver Recreation & Culture Commission.
We have two picks for Lynn Valley:
Saturday Sept. 29; 10-11 a.m.

Shaketown Walk

with NVMA curator Karen Dearlove , Community History Centre, 3203 Institute Road, Lynn Valley

Saturday, Sept. 29; 2-3 p.m. The Glorious Mountains of Vancouver's North Shore with author David Crerar,  Community History Centre, 3203 Institute Road, Lynn Valley
---
---
For David Crerar the love of the mountains came early. It was puttering around the neighbourhood heading off on random trails – sometimes ending up in Deep Cove at about eight-years-old after following the Baden Powell trail after school, well that was only once, he says.
"My parents appreciated the outdoors and were content to let me play around in the forest and explore," said Crerar, still a North Shore resident and now a lawyer. "We lament we couldn't quite give our kids the same experience – more because of cars than bears, so my way was to embrace outdoor adventures. Walking, hiking, exploring – I think they did Little Goat Mountain behind Grouse by the time they were three."
His passion for local hills lead to the creation of a contest to encourage local trail runners to hit as many peaks as they can in a single season.
"I found there wasn't a list," said Crerar. So he began making one, which lead to more research and now, eight years of research later, a book is complete.
---
---
With friend Bill Maurer, and high-school-aged son Harry, Crerar has written The Glorious Mountains of Vancouver's North Shore – a Peakbaggers Guide that goes well beyond the typical trail guide.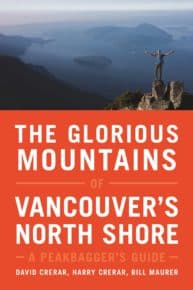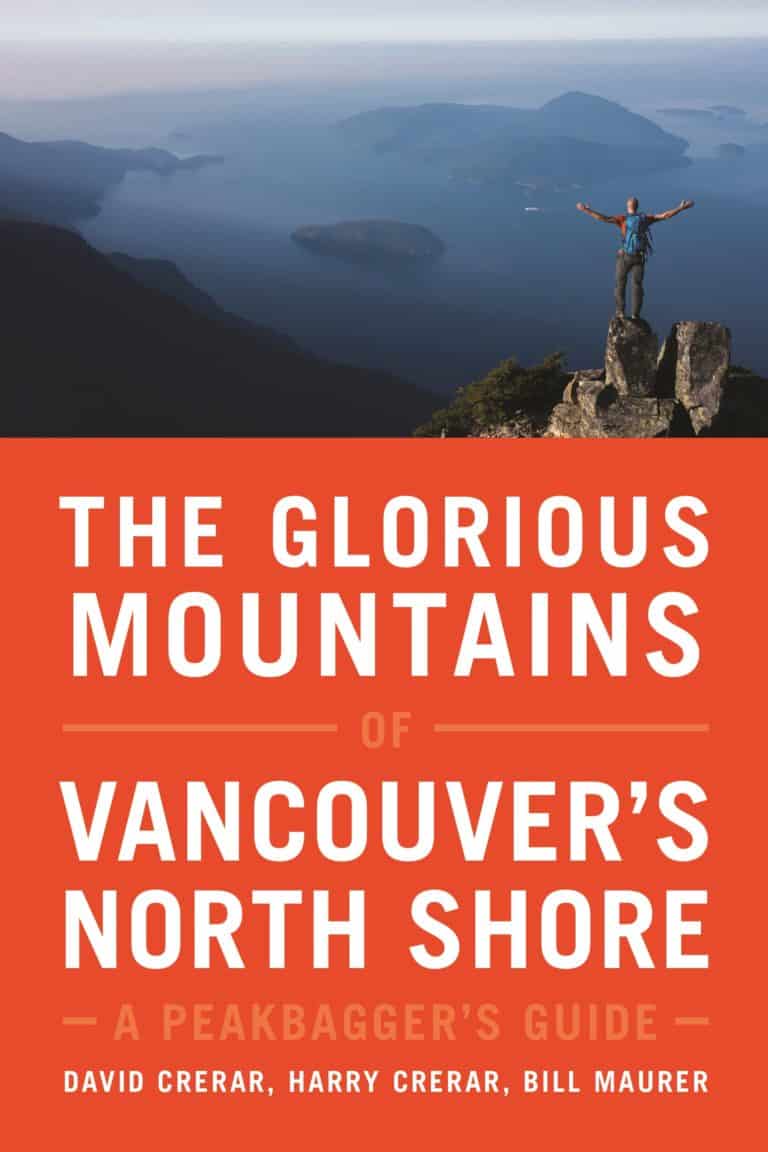 "In the marvelous 105 Hikes by Stephen Hui, it covers, I think, only 10 of the hikes," he said. "And although it is classified as a hiking book, I almost prefer to think of it as everything you need to or wanted know about these mountains in our backyard. Even folks who aren't hikers will find history and culture.
"There has never been a book written like this which focuses on the North Shore peaks and which tries to provide not only a comprehensive list of hiking routes but the history of the mountains not only hiking use but the long industrial history beyond the obvious forestry – did you know there is an existing zinc claim in the [Lynn] Headwaters Regional Park on the Hanes Valley trail?"
The authors also recognize the history in the mountains extends well past the European contact.
"I think we have written the most comprehensive collection of local indigenous people use of and names for not only mountains, but also creeks and islands and everything," said Crerar. "We've researched the archaeological finds and there is a fair bit of information on Squamish and Tsleil–Waututh nations."
There a nuggets and secrets like this peppered throughout a short conversation with Crerar. The depth of his local knowledge perhaps only trumped by his enthusiasm to get outside. Take Lynn Peak for instance, right in our own backyard.
"Did you know the park sign leading to the peak – isn't technically the peak? It's a viewpoint," he said. "Most people don't know the reason it is clear and makes a nice view point is that in the 1960s there was a zeppelin logging operation there and that was the mountaintop docking station. They would basically float this big balloon up and put a bunch of logs on it and float it down again. If you bike along the Lower Seymour Conservation trail lower down and to the east, you will find Balloon Creek and the Balloon Picnic Area – they are there for a reason. It tells a relatively unknown and wacky bit of North Shore history."
---
---
Much of the research the authors undertook was at Lynn Valley's North Vancouver Museum and Archives and the Community History Centre, which also houses the BC Mountaineering Club archive. David Crerar will be returning Sept. 29th from 2-3 p.m. to share more secrets from his book and local highlights. Pre-registration is required: call 604 990 3700 x8016.
"I'll be talking about waterfalls you don't know about, First Nations history, wildlife – there are still mountain goats in our local mountains," said Crerar. "If you hike back there you will see old mining claims, old mining stakes, old metal stoves – there is so much mining history back there and Vancouverites really have no idea. There are a bunch of plane crashes in mountains. There has been a fairly recent phenomena of whiskey caches – there are so many unique things to learn about."
David Crerar's book The Glorious Mountains of Vancouver's North Shore is available now and he will be speaking Sept. 29 from 2-3 p.m. at the Community History Centre 3203 Institute Road, Lynn Valley. Pre-register: 604 990 3700 x8016.
Photos courtesy of David Crerar and Rocky Mountain Books. 
For all the Cutlure Days events check out the  NVRC website at https://www.nvrc.ca/arts-culture/culture-days (for Lynn Valley events, click on the Lynn Valley Hub accordion on the webpage) or the national website at https://culturedays.ca/en.