When life gives you lemons, the optimistic make lemonade. So when Dana Kovanda and her son find broken glass in Hastings Creek, they don't just pick it up – they make beautiful jewellery that's unique to this neighbourhood.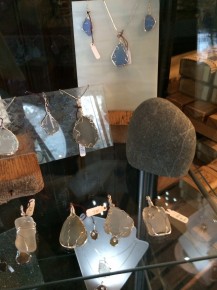 Dana's tumbled-glass jewellery – like beach glass, but tumbled via machine instead of waves – has just been introduced at the End of the Line store, where owner Connie Fay is confident it will be popular with neighbourhood residents and visitors alike.
The silver-wrapped green, clear, amber and blue pendants and earrings aren't just lovely to look at, Connie thinks that some Lynn Valleyites of her generation will also get a kick wondering if the glass shard might be a remnant of one of their own evenings of youthful excess.
While the glass jewellery might evoke fond memories, the garbage that Dana and her son collect from the banks of Hastings Creek is a less romantic testament to human activity around the fish-bearing waterway. According to her sign posted by display case, glass isn't the only thing they find – unfortunately, it's not  too unusual for them to have to haul out items as large as office chairs.
The family passion for environmental stewardship has found a lovely expression in this Hastings Creek line of jewellery, so have a look while you're at the End of the Line. If you'd like to clean up your own neck of the woods, consider North Van District's Adopt-a-Street program (bottle cap cufflinks may be the next big thing!). If you'd like to learn more about the interesting history of Hastings Creek, read this watershed profile. And if you'd like to learn more about local creeks and their protection, check out the fine work of the North Shore Streamkeepers.
And if you'd like to know more about Dana's jewellery, you can contact her at [email protected]!