Just over two years ago, we wrote this post about the now-legendary Cedar V theatre, located next door to what is now the PetroCan station on Lynn Valley Road.
This week, we were happy to receive some more reflections, sent our way by Dave Whitmore, who lived at 2826 Crestlynn Place from 1958 till 1973. Thanks for the memories and the photos, Dave!
The Cedar V Theatre Years
I was born in 1950, and our family moved to Lynn Valley in 1959. At that time there was a small shopping centre with a Safeway, one elementary school, Eastview Elementary, and soon one high school, Argyle (finished in 1965, in time for me) and one theatre – the Cedar V Theatre.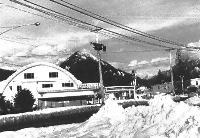 The theatre was Quonset Hut-style building with a covered wrap-around area for the line-ups that also posted the marquee of shows playing. They always showed double features, and on Saturdays a half-price matinee for kids. The price was 35¢, later 50¢, and snacks were cheap, too. Also, they had hot dogs, a snack that has since disappeared from theatres.
When one of the two features were considered 'adult only', us matinee goers would be given a raft of cartoons and a 'Three Stooges' movie in place of it. Because of this, I have seen every 'Three Stooges' movie at least twice, and know the names of all five 'Stooges' characters: Moe, Larry, Curly (bald), Shemp, and Curly Joe (also bald).
Between features, there was a 'Birthday Break' where birthday kids came on stage and were given applause, a 'Happy Birthday' sing-along, and a free ticket and a treat. In all those years, my birthday never happened on a Saturday. Damn!
In the rear of the theatre were two soundproof 'Crying Rooms' with their own speakers and big glass windows. They were used in the evening where adults that had crying kids could go and watch the movie without disturbing others. On matinee days, they were occupied by all the local "tough kids" as a sort of clubhouse. Most of them were members of a loose Lynn Valley gang that called themselves 'The Lynn Valley Smiling Crab Society' (or LVSCS for short). In there they would smoke up a storm and drink smuggled booze; but that left everyone else in peace – so it worked out well for everyone. I've never seen 'Crying Rooms' in any other theatre, though some other theatres must have had them, too.
The family that ran it was the Chisolm family who lived upstairs in the theatre, and one of their kids (John , I think) was often in one of my high school classes. I always envied a kid who lived in the theatre. He was a small, mild-mannered guy, but unlike other small, mild-mannered guys like me, he never had to worry about the many bullies from the LVSCS and others, lest they be banished from the Saturday gang get-togethers in the 'Crying Rooms'. A sort of 'Diplomatic Immunity'.
Despite the fact that because I was always the smallest kid in my grade and got bullied a lot, the years in Lynn Valley were the best in my life. The schools and houses were surrounded by woods and trails, and Lynn Canyon Park had the free suspension bridge. Most people lived in the new suburban 'Westlynn' and 'Westlynn Terrace' developments and were generally pretty well off. And watching all the 'Sinbad' and 'Beard and Sandals' epic shows (eg: Ben-Hur, Barabas, etc) in technicolor at the Cedar V Theatre was a big part of it. Notwithstanding the shadow of the Cold War, these were happy innocent times.
– Dave Whitmore, former Lynn Valley resident